| | |
| --- | --- |
| Alibaba Group invests in Israeli start-up company Visualead | |
Chinese Internet giant Alibaba has entered the Israeli market and will invest in Israeli start-up Visualead, which operates in the Chinese market and has developed a QR Code solution.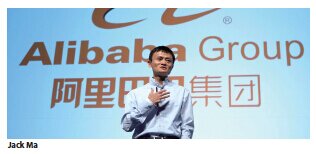 This is Alibaba's first ever investment in an Israeli company. Before the current investment, Visualead had raised US$2.4 million in two fund raising rounds.
Visualead released a press statement in which it confirmed that it has secured B-round funding from Alibaba Group Holding Limited. Alibaba Group and Visualead also entered into a strategic cooperation agreement for the use of Visualead's patents and technology across Alibaba Group's ecosystem. Visualead will use the proceeds from the funding to develop next generation of Offline to Online technology (O2O). Visualead will also be working closely with Mashangtao, the scannable code technology service of Alibaba Group, to provide innovative tools and solutions to sellers on Taobao Marketplace and Tmall.com, China's two biggest online shopping platforms.
Mashangtao recently utilised Visualead's Visual QR Code technology to enable merchants to generate QR Codes. Visualead and Mashangtao are also engaged in joint projects in the areas of anti-counterfeiting, mobile and video.
"We have already seen O2O as a major area of growth in China. Working with Visualead, a dynamic startup and first-mover in this field, is the next logical step as we seek to enhance customer engagement on mobile platforms. We believe that Visualead's leading Visual QR Code technology will compliment our mobile marketing initiatives and enhance our ability to take advantage of the booming O2O opportunities in China," said Zhang Kuo, Director of Alibaba Group's Mashangtao technology service.
Nevo Alva, CEO of Visualead, said: "Alibaba is the ideal strategic partner for distributing our technology in China and the leading O2O company worldwide. We are humbled to have Alibaba as a shareholder and on our Board of Directors, committed to making our Visual QR Code the new worldwide standard for Offline to Online engagement."
Please login or register to see the full article