| | |
| --- | --- |
| Rafael defence systems and Kalyani announce joint venture to produce missile systems | |
Israeli government-owned Rafael Advanced Defense Systems Ltd and Indian company Kalyani Group announced an agreement to establish a Joint Venture to produce missile systems, remotely controlled weapons positions, and advanced systems for the protection of tanks and APCs (Armoured Personnel Carriers). Kalyani will own 51% of the new company, and Rafael 49%.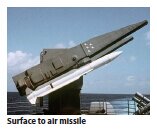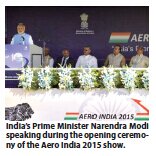 The agreement between Rafael and Kalyani was signed during the Aero India weapons exhibition which recently took place between 18-25 February in Bangalore, India, which the leaders of the two companies attended.
Fifteen Israeli defense companies took part in this prestigious exhibition, presenting their developments at a pavilion set up by the Ministry of Defense Foreign Defense Assistance and Defense Export Organization (SIBAT).
Aero India 2015, now in its 10th year, is a premier aerospace exhibition, which attracts exhibitors from around 30 countries with 570 companies (274 overseas + 296 domestic) and 46 overseas delegations. It has also become a hub centre for defence business in Asia.
According to the agreement production lines are to be set up in India and will produce components for Rafael's systems, including the Barak 1 missile, the Spike anti-tank missile, and others. The new company's production infrastructure is also expected to accommodate future production in India of the Magic Wand (David's Sling) system for protection of armoured vehicles against anti-tank missiles.
Please login or register to see the full article