| | |
| --- | --- |
| Dairy farm project in Vietnam nears completion | |
Spanning 800,000 square metres and housing 15,000 milking cows in central Vietnam, the largest Israeli dairy farming project in the world is set to reach completion this year, the companies involved recently announced.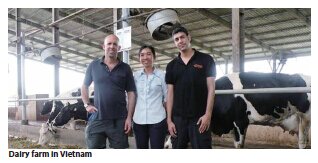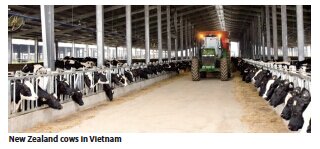 At a cost of more than US$200 million, Israelis teamed up with Vietnamese to construct the enormous TH Milk facility, in which the cows are capable of generating 9,300 litres of milk annually despite tropical conditions, the companies said.
Stemming from an initial agreement signed between Kibbutz Afikim-based milking technology developer Afimilk, and the Vietnamese firm TH Milk in 2009, construction and operation of the 12 milking parlors has occurred in stages.
Design and planning for the facility has been implemented by the Tel Aviv-based AlefBet Planners Ltd., alongside the Galil Engineering Group.
The original cows for the dairy farm arrived from New Zealand and were inseminated with Israeli and European sperm to maximize the quality and milk yield of the herd.
"Designing the site was particularly challenging due to the lack of existing infrastructure suitable for a sizable dairy industry in Vietnam," explained Ronen Feigenbaum, chief designer of farms and livestock at AlefBet Planners.
"The project is 11 times larger than the biggest milking facility in Israel and can generate milk amounts equivalent to 15 percent of Israel's dairy industry," he said.
Please login or register to see the full article