| | |
| --- | --- |
| InovGate launches US$10million early-stage fund | |
InovGate, the accelerator for Israeli companies looking to break into the Asian market, has launched a US$10 million early-stage capital fund, which will begin investing in the first quarter of 2016.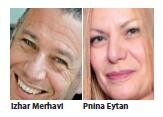 Founded by Izhar Merhavi and Pnina Eytan, the Singaporebased fund will make investments of US$100,000 in exchange for 5% equity.
The company's portfolio already includes Zoomd Xpandion, Atrinet, and Magna – 4eyes, all of which participated in InovGate's four-month accelerator programme, split between Israel and Singapore.
InovGate has been designed for young and dynamic companies that want to target the rapidly growing Asian Pacific market. The companies must have unique products, technologies and services.
The accelerator programme begins in Israel with a rigorous two-month selection process by a professional committee including marketing, finance, technology and experienced Asia Pacific experts.
Please login or register to see the full article