| | |
| --- | --- |
| Israel seeking investment opportunities in Goa | |
Israel has expressed a keen interest in partnering and investing in Goa, India, especially in the fields of eco-tourism, agriculture, water management and business.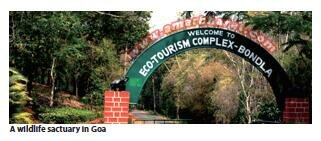 In December, Israel's Ambassador to India Daniel Carmon and Consul General David Akov met with Chief Minister Laxmikant Parsekar; Deputy Chief Minister Francis D'Souza; Forest, Environment and Panchayats Minister Rajendra Arlekar and other ministers.
"We see it as our mandate, as our job to make things happen. This is the main reason for our visit here. We had very candid, open and friendly conversations on what we could do and in what fields could we do more. This is why we are here," Carmon said. During the discussion, Carmon proposed the sharing of technology, best practices and government-togovernment tie-ups in the field of eco-tourism. "We identified that the delicate balance between environment and development is a critical issue for both the countries. The minister [Arlekar] was very interested," Carmon said.
Confirming the developments, Arlekar said that the discussions were still in a nascent stage and that Israel was keen to invest in Goa in the tourism and agriculture sector.
Please login or register to see the full article