Business
| | |
| --- | --- |
| IIA announce partnership with Singapore Technologies Engineering | |
The Israel Innovation Authority (IIA), the Israeli government's funding arm for research and development (R&D) and innovation, announced in June a partnership with Singapore Technologies Engineering (ST Engineering), a global tech and engineering group, to scout for Israeli tech.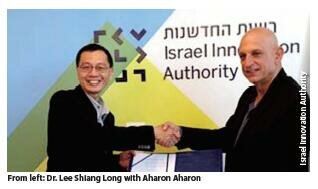 This programme "offers a unique framework for technological cooperation between MNCs and innovative Israeli companies," an IIA spokesperson said.
As part of the deal, the IIA will support ST Engineering by helping to identify tech development,s and scout Israeli companies that fall within its sphere. Funding will be provided for these Israeli startups by the IIA, and ST Engineering will support their testing, marketing, and other global endeavours.
"The Innovation Authority is pleased to announce the first MNC Collaboration agreement with a Singapore-based engineering and technology group, ST Engineering," said Aharon Aharon, CEO of the Israel Innovation Authority, "It will serve to strengthen R&D and commercialisation relationships between the two countries," he explained, noting the agreement is in addition to the SIIRD Foundation (Singapore Israel Industrial Research and Development) agreement between the Israel Innovation Authority and Enterprise Singapore.
"R&D collaboration with the government of Israel marks an important milestone for ST Engineering, as it facilitates our work with the Israel Innovation Authority and leading Israeli companies who can become technology partners for our mobility solutions," said Dr. Lee Shiang Long, President of ST Engineering's Land Systems sector.
Please login or register to see the full article
| | |
| --- | --- |
| China-Israel Innovation Hub in Shanghai established | |

In the continuing effort to bolster cooperation between both nations, China and Israel have now officially launched the China-Israel Innovation Hub.

Located at the Taopu Smart City in Shanghai, the complex is intended as a symbol of the two nations' aim of promoting and developing scientific innovation. The hub, which is situated near the Putuo District in Shanghai, will mainly be housing firms and institutions that will work on different research and development projects from both nations.

Different universities, research institutions, and tech firms from Israel will also be invited to set up their respective bases of operations within the innovation hub.

To further spur innovation and research projects, both countries have set up a US$145 million innovation fund, which will be part of the first phase of the hub itself. According to China's Minister of Science and Technology Wang Zhigang, the main goal of the hub is "To promote different breakthroughs and achievements in the science and technology fields."

The innovation hub will also serve to attract financial capital from investors, as well as being a melting pot for top talents from both countries. Wang hopes that the hub will set an example for the rest of the world to promote global cooperation to spur further innovation in various industries. Wang also stated that they are welcoming all scientists, engineers, and businessmen from all over the world to work and invest in China.

Please login or register to see the full article

 

| | |
| --- | --- |
| Miniso in expansion drive in Israel | |

Retailer giant Miniso is opening new stores in Israel at an investment of NIS 6 million, according to Globes.

Almost a year after its official launch in August 2018, Miniso Israel, managed by CEO Einat Portugali, is expanding. Headquartered in Japan, Miniso operates 1,800 low-cost variety stores across Asia, Europe, Australia, Africa, North America and South America.

Miniso discount chain currently has seven branches across Israel, and will be making the move to set up at popular shopping malls later this year.

According to the chain's business plan, it plans to double its current numbers, with an envisaged network of 18 stores by the end of 2019.

Please login or register to see the full article

 

| | | |
| --- | --- | --- |
| Mitsubishi Corporation to open an innovation centre in Tel-Aviv | | |

Japan's Mitsubishi Corporation announced in May that it will open an Israel development centre in TelAviv, Israel's Ministry of Economy and Industry reported, which will scout for investments in startups.

"In the past two years, company representatives have begun to examine whether they should expand their activity in Israel and focus more on technological cooperation, including investments in Israeli companies," the ministry said.

Over the past four years, the Ministry of Economy and Industry say more than 70 Japanese companies have opened representative offices in Israel. Over that period, Japanese companies have invested more than US$5 billion in Israel.

Last year, Renault-Nissan-Mitsubishi (not related to Mitsubishi Corp.) set up a US$1billion venture capital fund, which has an Israel office.

 

| | |
| --- | --- |
| Cooperation agreements signed between Sichuan province and Israel | |

During a Sichuan investor conference in May, a total of 18 cooperation agreements and Memorandums of Understanding (MoUs) were signed between China's southwestern province of Sichuan and Israel.

Delegates from the Sichuan provincial government, research and education institutions, and various companies signed these documents with Israeli partners at the China (Sichuan)-Israel Science, Technology, and Trade Conference.

The value of the agreements signed in the sectors of economy, trade, and investment surpassed US$350 million.

Prior practical cooperation between the two sides has been conducted in sectors comprising science, technology, economy, trade, education, and culture, garnering fruitful achievements in recent years, said Peng Qinghua, secretary of the Sichuan Provincial Committee. Peng believed there is a great potential for both sides to further deepen innovation cooperation in the future.

Please login or register to see the full article

 
More Articles...
India looking to acquire SPICE bombs
Israel receives three bidders for huge desalination plant
<< Start < Prev 1 2 3 4

5

6 7 8 9 10 Next > End >>