| | |
| --- | --- |
| Israel Museum presents 'Collecting Dust' | |
This winter, Israel Museum launches a series of exhibitions that spotlight a roster of internationally acclaimed and emerging artists from Israel, in the greater context of the international contemporary art scene.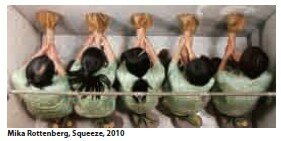 'Collecting Dust in Contemporary Israeli Art' examines the work of fifteen artists who transform dust into contemporary works of art exploring temporality, memory, and Israel's environmental landscape. There will be four separate exhibitions in four months showcasing this theme. The exhibitions are on view from 3 December through 5 April, 2014.
On display is the first-ever retrospective of Gideon Gechtman, who explored how art can act as a posthumous memorial. Also on view is the first solo exhibition in Israel of Mika Rottenberg, whose work examines the role of women in society and the repercussions of an increasingly digital world. The pervasive presence of dust – as matter or metaphor – is the thread that connects the works on view in this exhibition.
'Collecting Dust' presents 45 works from the last decade by Israeli artists active in the fields of painting, photography, installation, and video, among them Ilit Azoulay, Gilad Efrat, Irit Hemmo, Dana Levy, Micha Ullman, Gal Weinstein, Sharon Ya'ari, and Yuval Yairi.
Gal Weinstein's Dust Cloud series (2009), which opens the exhibition, presents clouds of volcanic ash using steel wool in a sequence of quasi-scientific images that develop towards a threatening climax.
In his photographic Rashi Street series, Sharon Ya'ari focuses not on the vibrant city of Tel Aviv that constantly reinvents itself, but rather on the fumes of demolition and thunder of urban renovation.
Please login or register to see the full article