| | |
| --- | --- |
| Yad Vashem receives rare Purim manuscript | |
This years Purim Megillah reading from the Book of Esther held at Yad Vashem Synagogue in Jerusalem on 16 March featured a scroll that survived Krakow Ghetto.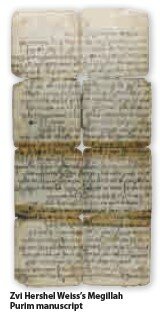 The Megillah scroll written in elegant calligraphy and estimated to be 300-450 years old, was discovered by Professor Kazimierz Kowalski during the Holocaust among a pile of rubbish in the courtyard of a Jewish school in the Kazimierz district in Krakow.

Beryl Shore, a survivor from Krakow and a member of the Association of Cracowians in Israel, brought the handwritten scroll to Israel a few years ago, and delivered it to Yad Vashem for safekeeping. The Megillah was displayed during the Purim event in which the Director General of Shaare Zedek Medical Center, Professor Jonathan HaLevy read from the scroll.

Also in attendance were survivors from various organisations and students at the Midreshet Moriah seminary.

Purim evening at the Ilia camp in Transylvania in 1943 was a very difficult one. Conditions were unbearable and spirits were very low.

Zvi Hershel Weiss, a prisoner at the camp, decided to write a text for the holiday to uplift the mood of his fellow Jews imprisoned Zlongside him. Recently, Zvi's son, Shmuel Yitzhak Weiss donated the manuscript, written in Yiddish, to Yad Vashem as part of the 'Gathering the Fragments' campaign.
Please login or register to see the full article