| | |
| --- | --- |
| Excavations from the Hasmonean period discovered | |
For the first time a building dating to the Hasmonean period was discovered in archaeological excavations in the City of David, in the walls around Jerusalem National Park.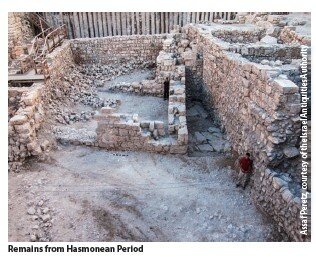 A few months ago remains of an impressive building from the Hasmonean period (second century BCE) are being unearthed in excavations by Israel Antiquities Authority. The excavations are sponsored by the "Friends of City of David". Although Josephus wrote about Hasmonean Jerusalem, it is only now that remains of a building are being exposed from this period in the city's history.
The building stands 4 metres high and covers an area of 64 square metres. The building's broad walls (more than one metre thick) are made of roughly hewn limestone blocks that were arranged as headers and stretchers, a construction method characteristic of the Hasmonean period.
Although numerous pottery vessels were discovered inside the building, it was mainly the coins that surprised the researchers. These indicated the structure was erected in the early second century BCE and continued into the Hasmonean period, during which time significant changes were made inside it.
According to Dr Doron Ben Ami and Yana Tchekhanovets, Excavation Directors explained that the importance of this discovery is primarily because of the conspicuous paucity of buildings from the Hasmonean city of Jerusalem in archaeological research, despite the many excavations that have been conducted to date.
Please login or register to see the full article