| | |
| --- | --- |
| Pope Francis makes landmark visit to Israel | |
Pope Francis made an historic three day trip to the Middle-East between 24-26 May 2014. Pope Francis was the fourth pope to visit the Holy Land. Previous visits were; Pope Paul VI in January 1964, Pope John Paul II in March 2000, and more recently Pope Benedict XVI in May 2009.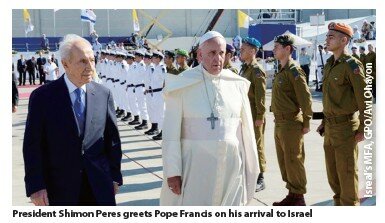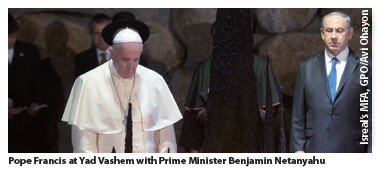 The Pope Francis trip was to mark the 50th anniversary of the historic visit of Pope Paul VI. The Pope announced his pilgrimage to the Holy Land on 5 January to commemorate the historic meeting between Pope Paul VI and Patriarch Athenagoras, which took place on 5 January, exactly 50 years ago.

The Pope first landed in Amman, Jordan where he was met with the King and Queen of Jordan and held a Holy Mass at the International Stadium in Amman. He then departed by helicopter on 25 May for Bethlehem and met Palestinian President Mahmoud Abbas holding a Holy Mass in Manger Square and then onto a private visit to the Grotto of the Nativity. He then arrived at Ben Gurion Internatonal Airport by helicopter from Bethlehem and was warmly greeted by Israel's President Shimon Peres and Prime Minister Benjamin Netanyahu. In a packed itinerary the Pope first went to Mount Scopus in Jerusalem having a private meeting with the Ecumenical Patriarch of Constantinople Bartholomew I at the Apostolic Delegation in Jerusalem, to coincide with the occasion of the 50th anniversary of the meeting between Pope Paul VI and Patriarch Athenagoras I.

The Pope visited the Grand Mufti of Jerusalem, Muhammad Ahmad Hussein in the building of the Great Council on the Esplanade of the Mosques.

He then visited the Western Wall. The pontiff prayed at the Western Wall and placed his hand on the ancient stones and put a note in the cracks between the stones. The text read "Our Father" prayer written in his native Spanish. Pope Francis wrote in the Kotel guest book, "I came to learn from the older brothers the significance of the place. I came to pray for peace all over the world."

He visited the grave of founder of modern day Israel, Theodor Herzl and laid a wreath at Mount Herzl in Jerusalem.
Please login or register to see the full article