| | |
| --- | --- |
| Shavei Israel re-establishing Kaifeng, China | |
Dipping an apple in a bowl of honey and blowing the shofar are two of the most iconic images of the Jewish New Year. But those customs are nothing short of miraculous when they take place so far from Israel or other large Diaspora Jewish communities that they are literally on the other side of the world.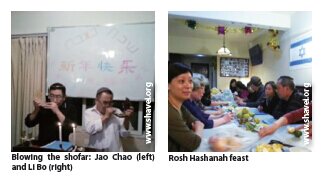 This past Rosh Hashanah, Shavei Israel organised a gathering in Kaifeng, China, where the small Jewish community celebrated the coming of the New Year with the same vigor as Jews in Jerusalem, New York or Paris.
Jews are believed to have first settled in Kaifeng, which was one of China's imperial capitals, in the 8th century, arriving there from Persia and Iraq as they made their way eastward along the Silk Route. In 1163, Kaifeng's Jews built a large and beautiful synagogue.
At its peak, during the Ming Dynasty (13681644), the Kaifeng Jewish community may have numbered as many as 5,000 people. But, by the mid1800s, assimilation had taken a heavy toll and the Chinese Jews' knowledge and practice of Judaism had largely faded away. The last rabbi of the community died in the early part of the 19th century, and the synagogue building was all but destroyed by a series of floods, which struck the city in the 1840s.
All of which makes the dogged perseverance by several hundred Kaifeng Jews to maintain their Jewish identity that much more remarkable.
Please login or register to see the full article