| | |
| --- | --- |
| From the ends of the earth – journey of Indonesian Jewish descendants back to G-d | |
ARISE, SHINE, for thy light is come,
And the glory of the LORD is risen upon thee. For, behold, DARKNESS SHALL COVER THE EARTH,
And gross darkness the peoples;
But upon thee the LORD will arise,
And His glory shall be seen upon thee.
And nations shall walk at thy light,
And kings at the brightness of thy rising.
Lift Up thine eyes round about, and see:
They all are gathered together, and come to thee;
Thy sons come from far,
And thy daughters are borne on the side.

(Isaiah 60:1-4)

"Darkness Shall Cover The Earth"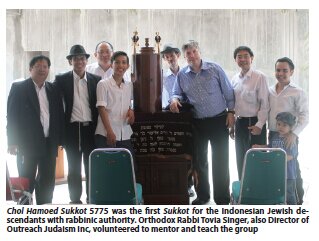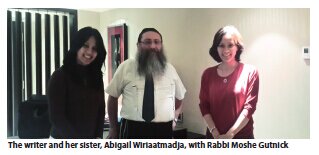 It is not clearly known how early Jews came to Asia, or Indonesia in particular. The earliest account on Jewish traders coming to Indonesia was written in the book "Aja'ib al-Hind" (Wonders of India). The writer, Buzurg ibn Shahriyar, mentioned a Jewish trader, Sihaq ibn Yahuda from Sohar in Oman. It is written that the merchant travelled to China from Sohar between 892 and 912 CE, returned to Oman with great wealth, and travelled to China again only to be killed on the way in Sumatra, Indonesia. This book is available in English titled The Book of the Marvels of India published by East-West Publications, London, 1981.
After the Spanish expulsion, Jews fled Europe and arrived in South America. As persecution followed them there, some of the Jews in Peru fled once again by ship. After the currents carried them to Japan, the younger and stronger ones continued on the journey and found the island of Papua, where they finally settled. They assimilated, and today, their descendants can still be found there. When the Dutch East Indies was established in 1602, Jewish merchants from all over Europe came to Indonesia, mostly on Java island. Many too assimilated here, and today we find descendants of those Jewish merchants from mostly Holland, and other parts of Europe, such as Poland, Hungary, Turkey and so on.
Not many know of the hidden Jewish history of Indonesia dating back to 400 years ago. Besides the Synagogue in Surabaya, which was torn down in May 2013, legacies such as individual Jewish burial and cemetery, and even Japanese concentration camps for Jews and Jewish descendants, are plenty.
One of the legacies left by a Jew is the home town where I grew up. I moved there after my family and I returned home from Germany. The town is located on the outskirts of East Jakarta and is called Pondok Gede. The name itself is an Indonesian term which means "big house". It refers to a mansion that belonged to a Polish Jew named Iehoede – read "Yehude" – Igel (1755-1835). He was a low ranking security guard turned wealthy goldsmith and later changed his name to Leendert Miero. The area, Pondok Gede, was named after Miero's estate.
Although Jews were officially allowed in the Dutch East Indies in 1782, many still hid or denied their Jewish heritage. Some did not live according to the Jewish faith and assimilated. A revival of Jewish life eventually occurred when the Association for Jewish Interests in the Dutch East Indies was established in 1927.
It was about the same year that the Jewish newspaper Eretz Israel was first published in Padang, Sumatra. The revival did not last long. In WWII, when the Japanese came, Jewish life died once more and stayed buried for 70 years, until many Jews left for the Netherlands, UK, US, Australia and Israel. Today, the association of Indonesian Jews in Haifa, "Tempo Doeloe", have members who are firsthand witnesses of those times. After the war, there was almost nothing left of Jewish life in Indonesia.
Please login or register to see the full article