| | |
| --- | --- |
| Christian missionaries threaten survival of Kaifeng Jews | |
After two centuries of slow decline, the Kaifeng Jews, who now number only in the hundreds, are again struggling to revive their community.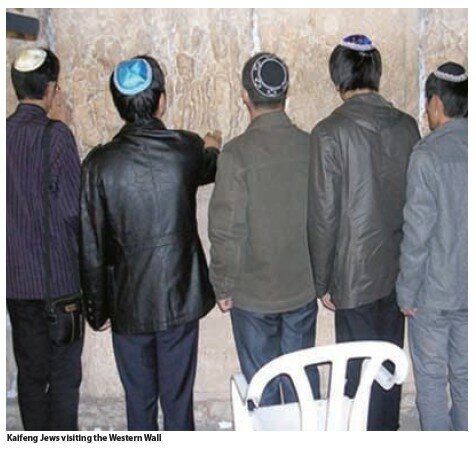 Credit this to a moderately more open Chinese society, the Internet, and the intermittent presence of visiting, knowledgeable Western Jews. And, as in past centuries, Christian missionaries are also present, hoping to redirect the Kaifeng Jews along Christian paths.
The chief player in this endeavouris an American Judeo-Christian named Timothy Lerner, who founded the first Jewish school set up in Kaifeng in modern times.
After studying in China in 2000, Lerner travelled to Kaifeng to open the Yiceleye (Israelite) School, instructing the Jewish descendants in Hebrewand gathering those interested for Shabbat dinners and festival celebrations.
More significantly, Lerner was able to arrange for a number of young Kaifeng Jews to receive scholarships to live and study in Israel with the help of the Israel-based Shavei Israel. This organisation is dedicated to returning "lost Jews" to the Jewish homeland—a Zionist mission that coincides, pragmatically, with that of the Judeo-Christians and their Christian supporters, who also seek the return of all Jews to the Land of Israel. Shavei Israel is neither a Christian nor a Judeo-Christian organisation, although it works with them to accomplish its own ends.
Please login or register to see the full article
| | |
| --- | --- |
| How three words defined me to others and taught me the best of two ancient cultures | |

Coordinating production of consumer goods from an office in Brooklyn taught me to do business with suppliers in China. I picked up a few cultural clues in the communication, but nothing prepared me for life in China.

Language was a manageable concern. I got by on translators, hand signals, and a few important words in Chinese. I had not anticipated how much Chinese culture mirrored Jewish culture. Confucius codified Chinese ethics and philosophy, emphasizing family, duty, and honor. The Chinese word for "people" (ren) is used to describe feelings of empathy, altruism, and striving for excellence. In Yiddish – being a mensch.

A succession of takeovers from the Mongols to the communists did not change the basics of Chinese society. The new leaders just became Confucian. China went on honoring its elders, worshiping its ancestors, and celebrating the ancient holidays. To the lands where they travelled, the Hebrews brought Mosaic Law, the bagel with shmear, and lawyers who practice the one while eating the other. Both cultures value personal honor. Saving face is a huge priority in China. The 'crown of a good name' is mentioned in Ethics of Our Fathers. Both Chinese and Jews seem to have a saying for everything, whether or not you appear interested. When serving food, every Chinese person is a Jewish mother.

An orthodox Jewish man arriving in the People's Republic, I was more than a large white foreigner. I was an inscrutable mystery. China hosts many American and European visitors, but a Caucasian with a yarmulke and beard was an unfamiliar sight that most resembled a Muslim from China's western provinces. It did not help that removing my glasses for my passport photo gave me a wild-eyed zealous resemblance to Osama bin Laden.

Within minutes of reaching China, someone touched my chin and said, "Nice beard." Chinese passengers waiting to change planes tried to read the boarding pass extending from my shirt pocket. In an attempt to shame them into giving me some privacy, I held it up to be read. The readers nodded their thanks, smiled, and leaned on my hand luggage. New York and Tel Aviv were light years behind China in the pushy and nosy stranger competition. The concept of personal space was undefined in the People's Republic.

Please login or register to see the full article

 

| | |
| --- | --- |
| The Maccabiah Games: Tales from a proud parent | |

I don't remember the exact day but it was some time in October 2012 when I received a call from my son in Hong Kong. "Mum, I have been asked to lead the delegation for Hong Kong-China at the Maccabiah this summer."

Daniel is usually quite understated and typically won't get overly excited but I could hear when he was telling me about this he was more animated than usual. I have seen over the years the work Daniel and others have done in Hong Kong building up Maccabi and for them the Maccabiah would be the result of that work.

For many of the last 12 years since Daniel has lived in Hong Kong, my holiday each summer is spent with Daniel, his wife Claire and three of my grandchildren, Dylan, Tyler and Maddi in Israel. The summer of 2013 was again going to be spent together in Israel but it was going to be unlike any other. As we counted down the weeks to the Maccabiah it became even more exciting when my eldest Grandson Ollie, was selected for the Under 18 GB Rugby Squad. Unfortunately, shortly before the games began Ollie dislocated his shoulder and had to withdraw from the games. I know Ollie will do his best to make it next time.

The Hong Kong Jewish community is around several thousand and includes a high percentage of Israelis. When I would ask Daniel in the months leading up to the Maccabiah how many athletes were going he would say, "Mum, you tell me." I know he and others spent a lot of time trying to convince people to come and represent Hong Kong in this unique lifetime experience but tying people down was proving difficult.

Eventually, with just a couple of weeks to go, Daniel confirmed that the delegation would be a team of 17 covering a range of sports. In the delegation were some of Daniel's closest and oldest friends including Jason Webber, who Daniel has been friendly with for over 40 years.

Myself and Valerie Hyams, whose son Andrew also lives in Hong Kong and had been picked for the futsal team flew to Israel together on 16 July with the games due to start on 18 July.

Please login or register to see the full article

 
More Articles...
New Permanent Exhibition "Shoah" at Auschwitz – Birkenau opened
UWC March of the Living 2013 A Vehicle for Change
Barbra Streisand to perform in Israel
<< Start < Prev

11

12 13 14 15 16 17 18 19 20 Next > End >>


Page 11 of 49