| | |
| --- | --- |
| The joy of celebrating Purim | |
Purim is one of the most joyous and fun holidays on the Jewish calendar. It commemorates a time when the Jewish people living in Persia were saved from extermination. Purim is celebrated on 14 Adar.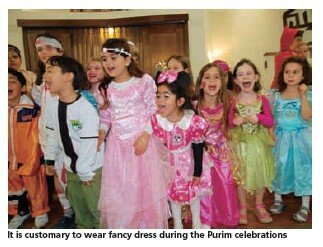 It is preceded by a minor fast on the 13 Adar - the Fast of Esther /Ta'anit Esther, which commemorates Esther's three days of fasting in preparation for her meeting with the king.
The story of Purim is told in the Megillah /Book of Esther. The heroes of the story are Esther, a young Jewish woman living in Persia, her cousin Mordechai, who raised her as if she were his daughter and King Ahashverosh of Persia. The king loved Esther more than his other women and made Esther queen, but the king did not know that Esther was Jewish, because Mordechai told her not to reveal her identity.
The villain of the story is Haman, advisor to the king. Haman hated Mordechai because he refused to bow down to him, and so he plotted to destroy the Jewish people. Mordechai persuaded Esther to speak to the king on behalf of the Jewish people. Esther fasted for three days to prepare herself, she told him of Haman's plot against her people. The Jewish people were saved, and Haman was hanged on the gallows that had been prepared for Mordechai.
Please login or register to see the full article