| | | |
| --- | --- | --- |
| A fl avour of Sukkot in Israel | | |
The week long festival of Sukkot in Israel, this year held between 2-10 October, was marked by a number of special events, for tourists and locals alike. The festive atmosphere began with sukkah fairs in most cities, selling the four species and sukkah decorations.
For tourists visiting the North of Israel, there was the 25th Haifa International Film Festival showcasing 280 movies from over 40 countries. The opening movie was Ang Lee's Taking Woodstock.
The festival included outdoor performances and an arts and crafts fair. Yehiam Fortress in Western Galilee staged the 17th Renaissance Festival, complete with knights, court jesters, tours and ethnic music.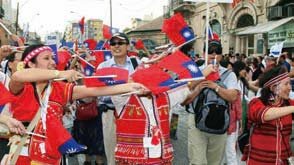 In Jerusalem the traditional Priestly Blessing at the Western Wall and the colourful 5 km, 10 km or 20 km Jerusalem March took place with thousands of Israelis and Christians from all over the world celebrating the Christian Festival of Tabernacles.
The 35th Abu Ghosh Vocal Music Festival attracts thousands of music fans, who enjoy fi rst class concerts in the churches and crypts of this hillside village outside the capital.
This year's Rishon LeZion Festival featured concerts by Israeli artist Shlomi Shabat; Mati Caspi accompanied by the Israel Philharmonic Orchestra and a free outdoor concerts in various locations in the city.
The second Herzliya Biennial featured a week of contemporary art exhibitions, live performances and fireworks most evenings.
The annual Kite-flying Festival took place among the Crusader and Roman ruins at Apollonia on the cliffs north of Herzliya. The Dead Sea region also came alive during Sukkot with the Tamar Music Festival hosting concerts with top Israeli stars such as Rita, Ehud Banai and Eyal Golan, as well as guest stars from the Jamaican group The Wailers (the former band playing with Bob Marley) and two sunrise concerts at Masada.
And Eilat hosted a photography exhibition 4 metres underwater in the Red Sea. A host of outdoor activities, hiking, tours and special events were organised by KKL-JNF and the Society for the Protection of Nature in Israel.
About 8000 Christian friends of Israel from about 100 countries around the world, including the heads of Evangelical Christian communities, participated in the Christian Feast of Tabernacle.
The festival, which this year carries the slogan "The Tabernacle of David" and is celebrating its 30th anniversary, is sponsored by the International Christian Embassy Jerusalem with assistance from the Ministry of Tourism.
Participants came from many countries including Australia, Bolivia, Canada, Chile, Austria, India, Italy, Nigeria, Brazil, Finland and Norway.
The pilgrims provide an exceptional contribution to Israel's hotel industry and earnings with about 56,000 nights around the country booked and the overall income estimated to be between 16-18 million shekels.
(Issue November 2009)