Warning
: Parameter 1 to plgContentLoginToRead::onAfterDisplayTitle() expected to be a reference, value given in
/home/joomla789/domains/jewishtimesasia.org/public_html/libraries/joomla/event/event.php
on line
67
| | | |
| --- | --- | --- |
| Guangzhou and Shenzhen Chabad Communities | | |
The cities of Guangzhou and Shenzhen are both located within the Guangdong Province in the southern part of the People's Republic of China.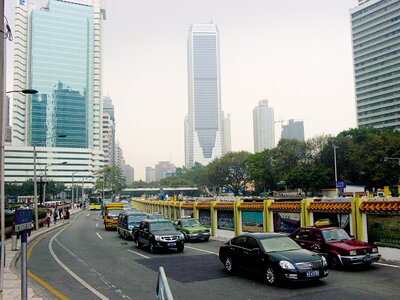 They both are rapidly growing cities in terms of economics and population growth, in part due to their proximity to Hong Kong and their advantageous location on the Pearl River Delta.
GUANGZHOU
Guangzhou is the capital of Guangdong Province in the southern part of the People's Republic of China. Guangdong is also known by its former name, Canton.
Chabad Guangzhou initially opened its doors, in 2003, in response to the needs of the large number of travelers attending the Chinese Export Commodities Fair or 'Canton Fair'. The Canton Fair is an annual event held both in the spring and in the fall. It is a major international trade event, drawing throngs of visitor to the already bustling city.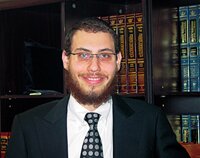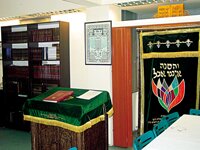 Israeli born Rabbi Eli Rozenberg and his wife Pnina arrived with their daughter, Michal, just over two years ago and have been instrumental in the growing success of the new center. Rabbi Rozenberg had traveled extensively prior to this position and served as a Chabad emissary in Venezuela, Russia, Belarus and Chile. He nevertheless was surprised that he was asked to go to Guangzhou.
Since their arrival, Rabbi and Pnina Rozenberg have used their home to provide Friday night hospitality to travelers and residents. For daily minyan they found that they quickly outgrew their 'home' shul and moved to a nearby commercial building which is the current location. They have truly exceeded all expectations and are experiencing growing pains for the third time in two years.
Change happens rapidly in this bustling commercial center. In a few months they will be moving to another location, this time to a more permanent address. Chabad has now been able to purchase their own building. The new house is in a prime location and complete with 24 hour security. The facility is designed to provide greater accommodation for worship, food and beverage by way of a 5 star restaurant, catering capabilities, and schooling. Planning is underway to build a mikveh for men and women.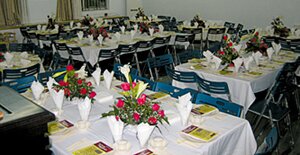 The growth of commercial activity has led to much larger number of Jewish visitors spending time in Guangzhou than initially anticipated. Rabbi Rozenberg indicates that he has a regular minyan of worshipers. During Canton Fair, well over 400 Jewish visitors frequent the Chabad House. There are meals provided following the weekly Shabbat services.
Rabbi Rozenberg is a shochet so he is able to provide the community and travelers with kosher chicken and meat. A daily breakfast is also served. All food is free and they are able to provide take-away meals. An onsite bakery makes fresh chalah, cakes and pita bread.
To assist with the enormity of catering to the spiritual needs of this large group, Guangzhou also has a few Chabad boys located here as part of their international outreach program.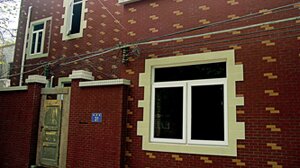 Currently not more than ten Jewish families are permanent residents in Guangzhou but there are families and singles living throughout Guandong province, in other cities, who attend Shabbat services as well. It is estimated that the majority of these residents are Israelis and living in Guangzhou on a temporary basis in conjunction with trade and the garment industry.
Mrs. Rozenberg runs a Sunday school programme targeting children ages five to nine years old. Individualised adult education is provided, on demand, through the rabbi.
There is historical evidence to suggest an early presence of Jews in Guanzhou along with other major port cities in China.
For now, new seeds have been planted and the community is growing.  The Rozenbergs have set themselves up to witness exciting new changes both in Guangzhou and the rapidly growing network of Chabad houses throughout China. They have big hopes for the future of Jewish life in China.
 
SHENZHEN
Shenzhen is located at the border with the Hong Kong, Special Administrative Region and was the first Special Economic Zone established by the People's Republic of China.
It is known as an international centre of foreign investment, trade and manufacturing and not surprisingly is one of China's busiest ports. It has flourished largely in part to its location adjacent to Hong Kong. What was once a fishing village is now one of the fastest growing cities in China.
The decision to open a Chabad in Shenzhen probably did not come as a surprise to those that track the growth of China's major economic centres. It is a city to watch for in the international marketplace.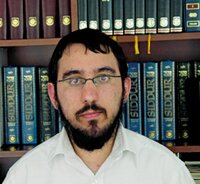 Rabbi Shalom Chazan & his wife Henny are the first schluchim couple to set up a Chabad in Shenzhen. They moved to China from an Israeli Chabad village. This is one of the newest locations in the Chabad network, as they first established themselves in February of 2006. Rabbi Chazan initially heard about the position through Rabbi Menachem Hartman, who oversees Chabad Vietnam in Ho Chi Minh.
The couple enthusiastically set out to meet the challenges associated with venturing into any new region. They primarily serve the needs of the throngs of Jewish businessmen passing through Shenzhen for commercial purposes. Businessmen in Shenzhen are involved largely in trade and the high-tech industry. There is very little backpacker or tourist traffic in this part of China.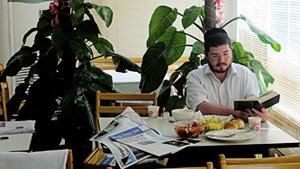 The Chazans have also quickly become indispensable to the local Jewish community. There are an estimated thirty Jewish expat families located in Shenzhen, though admittedly most of these one hundred-fifty residents actually live in Shekou, a forty-five minute drive from the Chabad House. Approximately fifty-percent of these residents are Israelis.
Like Guangzhou, they too are experiencing growing pains only one year after their initial entry into the region. Their current location is temporary and there are plans underway to move to new house already purchased by Chabad in a few months. The new location is a two floor facility complete with both a garden and a roof top. Future plans include expansion to allow for a mikveh, full service restaurant, and a children's school.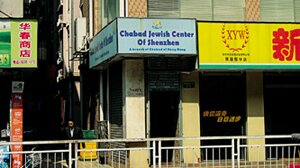 The Chabad House is open daily and serves food and drinks. Their meat is flown in frozen from Beijing. There is now a meal delivery service available for lunch and dinner at a very modest cost. For Friday night dinner, challah and cakes are baked fresh.
There is a daily minyan and weekly Shabbat services draw participation from an average of thirty worshippers each week. Meals are also provided on Shabbat.
Growth is rapid in China and for Chabad of China. Under the guidance of Rabbi Mordechai Avtzon, the regional director, both couples can expect big things to happen. The new centers will be able to attract greater numbers of Jewish travelers and residents seeking a Jewish connection in these two cities.
Travelers are no longer confined to their hotel rooms for Shabbat and holidays. There are communities in Guangdong Province to serve their spiritual needs. It is uncertain where life will take you, but it seems that Chabad will be there, even in China.
 
Fact Box
Chabad of Guangzhou
27 Huale Lu 2nd Floor,
Guangzhou, PR China
中國廣州市華樂路27號2樓(廣州大廈對面)
Tel: (86) 20 8376 7070
E-mail: This e-mail address is being protected from spambots. You need JavaScript enabled to view it
www.chabadgz.org

Chabad of Shenzhen
1st Floor B, No. 9 Xinbafang,
Jiabin Road, Cai Wu Wei Building
Luo Hu (Lo Wu) District,
Shenzhen, 518001
PR China
中國廣東省深圳市羅湖區嘉賓路蔡屋圍新8坊9號
Tel: (86) 755 8207 0712
E-mail: This e-mail address is being protected from spambots. You need JavaScript enabled to view it
www.chabadshenzhen.org
(Issue March 2007)Â