| | |
| --- | --- |
| PAROCHET DONATED BY ISRAELI CONSULATE TO SHANGHAI REFUGEE MUSEUM | |
The Consul General of Israel in Shanghai, Jackie Eldan, gifted a curtain to adorn the front of the Torah Ark of the former Ohel Moshe Synagogue. The parochet was mounted and installed in an official ceremony on 18 March 2009.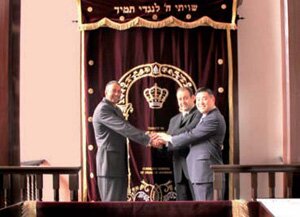 The gift is a true representation of the Jewish Diaspora experience; designed in Israel, crafted in the United States, adorned with gems from India and installed in China.
The Ohel Moshe Synagogue was once the spiritual home to the community of Jewish refugees during the Holocaust.
During the 1930s and 1940s, China, specifically Shanghai's Hongkou district, provided a safe haven for over ten thousand Jews and allowed them to escape Nazi persecution.
The Ohel Moshe Synagogue, originally built in 1927, following the mass exodus of the Jews from Shanghai after World War II, the Synagogue soon ceased to be used for as a place of worship. It now houses the Shanghai Jewish Refugee Museum which sees nearly seventy visitors a day, most of whom are local Chinese. The museum has also become a must see on the sightseeing list of almost every Jewish tourist.
Please login or register to see the full article