| | |
| --- | --- |
| JEWISH CEMETERY IN KARACHI DOCUMENTED FOR FIRST TIME | |
By Jessica Zwaiman Lerner
Shoieb Yunus, a Pakistani-American filmmaker, has produced a documentary with original footage and photographs of the Jewish cemetery in Karachi, Pakistan. The piece entitled Cemetery of The Lost Tribe can be viewed on-line.
In his first interview since producing the documentary, Yunus told Jewish Times Asia the project "started with a simple newspaper article" from Dawn, daily English newspaper in Pakistan. Some young girl stumbled upon the cemetery and wrote an article about its existence. There were no pictures, no visuals, just the text."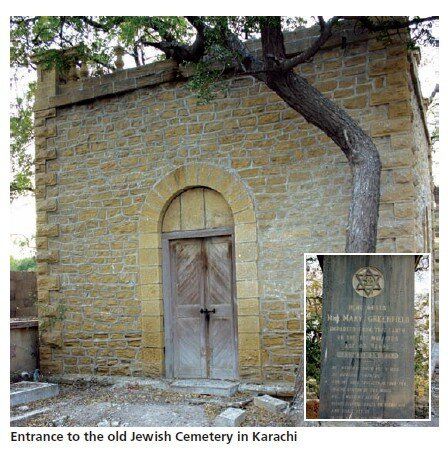 "I just found this very interesting and so intriguing that there would be a Jewish community with a presence and I simply didn't know anything about it," Yunus commented. "So I started asking questions and searching the Internet for more information. Once I established hat this was a fact and not from someone's imagination, the next step was for me to locate the site." 
The cemetery is located in old Karachi and it is part of the much larger interfaith Mewa Shah Graveyard. "It is a giant piece of land." Yunus knew the neighbourhood was notoriously an area run by criminals and quite unsafe. "I sent some of my staff members to look for it and they were unable to locate it."
On a trip to Karachi, Yunus, with the help and protection of local politicians, went looking for the cemetery. "We were driving around the giant piece of land and as we're driving around I saw two pillars with the Star of David and I yelled, 'Stop!' We got out of the car and wanted to go inside but the keepers wouldn't  allow us.They said nobody could go inside."
The boundary wall around the cemetery is not very high, so a couple of staff members secured some pictures early one morning. Yunus estimates there are somewhere between 200 and 400 graves on site, dating from the 1800s and until 1947-8, when the majority of Jews left due to the new government at that time. It is estimated that around 10-15 Jewish families currently live in Karachi.
Please login or register to see the full article