| | |
| --- | --- |
| Resident jailed for trading organ transplants | |
The Jerusalem District Court has sentenced Israeli resident Sami Shem Tov, 69, who was convicted on 13 charges of brokering organ transplants, to three years imprisonment.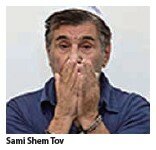 Using connections in his workplace at the Hadassah Ein Karem Hospital, Shem Tov set up early medical examinations for his clients and donors and then sent them to the Philippines and Ecuador for the transplant procedure itself.
Shem Tov used to "cheat those involved and endanger them while taking advantage of their financial, mental and health concerns for money," said the court ruling.
In August 2010, Shem Tov was convicted of a series of organ trade charges for his activity between 2006 and 2010. Shem Tov had acted as a middleman between recipients and potential organ donors, who he found by posting newspaper ads.
Taking advantage of their inexperience, Shem Tov kept donors in the dark as to the risks involved. For his services, Shem Tov illegally received large sums, giving only a fraction of it to the donors themselves.
Last year, he pleaded guilty to charges of exploitation, attempted exploitation, fraudulently obtaining benefits and extortion, as part of a plea bargain.
Please login or register to see the full article