| | |
| --- | --- |
| HONG KONG-CHINA TEAM WIN 10 MEDALS AT THE 19TH MACCABIAH GAMES | |
A victorious and jubilant Hong Kong-China team of athletes arrived back on 4 August from the 19th Maccabiah Games held in Israel. Otherwise known as the Jewish Olympics, the 17-person delegation won 10 medals, a remarkable achievement by such a small number of participants.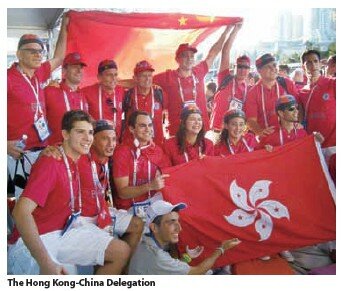 This was the second delegation from Hong Kong-China to participate in the Games which ran from 18-30 July. Approximately 9000 athletes, delegations from more than 70 countries participated in more than forty different sporting competitions. The games are divided into four separate competitions: Juniors, Open, Masters and Paralympics.
The very first Maccabiah Games took place in 1932 and they are now the third largest sporting event in the world, after the Olympics and the Commonwealth Games. They take place every four years, all of the athletes are Jewish and the games are always held in Israel.
The opening ceremony took place at the Teddy Kollek Stadium in Jerusalem, Israel's national stadium, before a crowd of 35,000 in the presence of Israel's President Shimon Peres, Prime Minister Benjamin Netanyahu and numerous ambassadors from around the world. US President Barak Obama and UK's Prime Minister David Cameron gave speeches by video.
The Hong Kong-China delegation proudly marched into the stadium carrying the Hong Kong and China flags. The Hong Kong flag bearer was Aaron Zweig, para-swimmer athlete and the China flag bearer was Bernie Pomeranc, tennis participant. The team received overwhelming support from a large delegation of Hong Kong supporters who travelled to Israel, together with a large contingent of supporters re-located from Hong Kong to Israel and supporters from the Chinese community in Israel.
Hong Kong's progress to be part of a major global Jewish event was orchestrated through the tireless effort and hard work of Rafael Aharoni, Chairman of the Maccabi World Union Hong Kong chapter which he founded in 2004. Mr Aharoni remembers the first delegation which was sent out from the region for the 2005 games which included 12 athletes. Under the chairmanship of Rafael Aharoni and the leadership of Neil Hyman and Daniel Gordon, Maccabi has grown significantly in Hong Kong over the last five years.
Please login or register to see the full article