| | |
| --- | --- |
| Shanghai unveils memorial to Jewish refugees | |
A memorial to the more than 13,700 Jews who fled Europe to safety in Shanghai during the Holocaust was unveiled at the Shanghai Jewish Refugees Museum.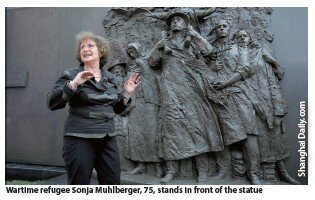 The memorial was unveiled on 2 September in a public ceremony. It includes a statue of six Jewish refugees, symbolising the 6 million Jews killed by the Nazis, and a 110-foot-long copper wall inscribed with the names of the Jewish people known to have taken refuge in Shanghai.
Museum curator Chen Jian calls it "Shanghai's List" — nod to Steven Spielberg's iconic film "Schindler's List" according to the Shanghai Daily. The names were collected by the museum with help from surviving refugees and the Israel Consulate in Shanghai.
Please login or register to see the full article