| | |
| --- | --- |
| CHABAD CENTRE RE-OPENS
AT NARIMAN HOUSE, MUMBAI AND REMEMBERS THE VICTIMS | |
A large gathering of guests, local government representatives and Chabad emissaries from Asia attended the re-opening of Chabad of Mumbai's headquarters, also known as Nariman House, on 26 August. They assembled at the restored six-story building, which will also house Mumbai's first memorial to the victims of the horrific terror attacks that took place eight years ago.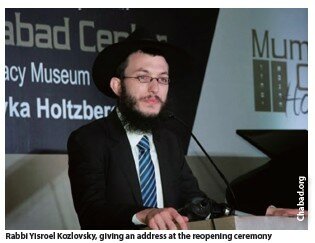 On 26 November, 2008, Pakistani militants descended upon Mumbai from boats, besieging the city in a three-day rampage that left more than 100 people dead. Gunmen targeted hotels, a hospital, and a restaurant in the Indian finance capital, and took the Chabad House hostage.
It resulted in the killing of the rabbi, Gavriel Holtzberg, his wife, Rivka and four visitors who were staying at the house. The Holtzberg's 7-year-old son, who was rescued by his nanny during the bloodshed, now lives with her at his grandparents' home in Israel. It was decided that attending the event would be too traumatic for him.
"Today, as we look to the future, our message is one of perseverance and unshakable belief in the power of light over darkness," said Rabbi Yisroel Kozlovsky, who now co-directs Chabad of Mumbai together with his wife, Chaya.
The official reopening also serves as the starting point for the next phase of reconstruction. A planned US$2.5 million museum is to be built where the Holtzbergs lived and on the floor where most of the murders took place.
"For reasons we will never know and never fathom, six pious people along with 158 others were torn from our grasp in the most barbaric and inhuman of ways," Rabbi Moshe Kotlarsky, vice chairman of Merkos L'Inyonei Chinuch, the educational arm of the ChabadLubavitch movement, said during the ceremony. "Today, we fulfill a promise which was made at the funeral of Rabbi Gabi, that we would rebuild."
Please login or register to see the full article