| | |
| --- | --- |
| More B'nei Menashe make aliyah to Israel | |
Another fifty B'nei Menashe immigrants have recently arrived from India to Israel, bringing the total number of community members to make aliyah in 2014 to 500 – the most ever so far. A further 200 are also expected to arrive this December.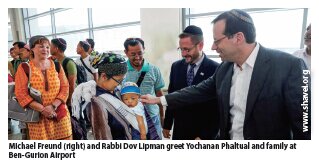 The B'nei Menashe claim descent from the tribe of Menashe (or Manasseh), one of the Ten Lost Tribes of Israel which were exiled by the Assyrian empire after the death of King Solomon more than 2,700 years ago.
The immigrants were brought to Israel by Shavei Israel, an organisation that assists lost Jews throughout the world and helps with absorption and aliya programmes. The organisation received permission from the Israeli government last October to bring around 900 descendants to the Jewish state by 2015.
Shavei Israel Chairman Michael Freund thanked the Israeli government for bringing the B' nei Menashe home. "The return of the Lost Tribe of B'nei Menashe to Zion after 2,700 years of exile is a modern-day miracle," Freund stated. "It is a testament to the determination and resolve of the people of Israel to come home again."
Please login or register to see the full article