| | |
| --- | --- |
| A STAMP TO COMMEMORATE THE PHILIPPINES HELP TO RESCUE JEWS DURING THE HOLOCAUST UNVEILED | |
The Philippines and Israel reaffirmed their friendly relations when the governments of the two states issued on 29 January 2015 a joint stamp commemorating the Philippine rescue of Jews during the Holocaust.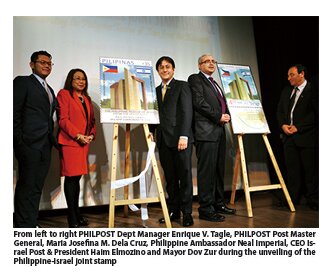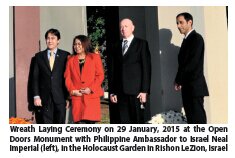 The launching ceremony, held at the Community Hall of Rishon LeZion, came two days after International Holocaust Memorial Day on 27 January.
The Philippine version of the stamp was unveiled by Philippine Ambassador to Israel, Neal Imperial, Post Master General and CEO of Philippine Postal Corporation, Maria Josefina M. Dela Cruz and Business Lines Department Manager Enrique V. Tagle. The Israel version of the stamp was unveiled by Israel Post CEO and President Haim Elmozino, Rishon LeZion Mayor Dov Zur and Israel Philatelic Service Director Yaron Razon.
The joint commemorative stamp features the national flags of the Philippines and Israel and the Open Doors Monument. The monument, which was unveiled on 21 June 2009 at Holocaust Memorial Park in Rishon LeZion, honours the humanitarian act of Philippine President Manuel L. Quezon in saving the lives of Jews fleeing the Holocaust from 1939-1942 through the issuance of around 10,000 visas. About 1,300 Jews reached the Philippines.
In his opening remarks, Ambassador Imperial said, "This humanitarian act not only resulted in saving the lives of a large number of Jews and their succeeding generations; it no doubt influenced as well the Philippine vote in favour of United Nations Resolution 181 in 1947, which helped create the State of Israel. These two acts, almost a decade apart and pursued by two different Philippine governments, had one common denominator: a consistent commitment to provide a home for the persecuted Jews."
Please login or register to see the full article