| | |
| --- | --- |
| HUMANITARIAN WORK IN NEPAL CONTINUES FOR EARTHQUAKE VICTIMS | |
Following April's 7.9-magnitude earthquake and subsequent aftershocks in Nepal, updated figures as of end of May from the Nepal Red Cross Society, reported that the death toll stood at 8,143, the number of injured was 17,576, and 260 people were still missing.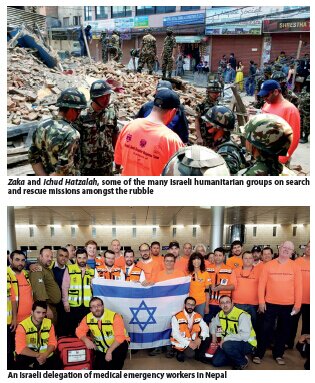 Nepal is still coming to terms with the massive devastation of large parts of the country, including the capital, Kathmandu. Nepal's National Emergency Operations Center estimated that more than 10% of the country's homes were damaged or destroyed. According to UNICEF, more than 1.7 million children needed immediate assistance. Many international aid agencies and foreign governments have been involved in delivering much-needed financial assistance and supplies.
Israel and Nepal have very close ties. Thousands of Israeli backpackers visit the country every year to trek, sightsee and go hiking in the Himalayas. At the time of the earthquake, around 500 Israelis were located in Nepal, thanks to efforts led by the Department for Israelis Abroad at the Foreign Ministry in Jerusalem. About 250 people have been flown home to Israel, however several remain unaccounted for.
Israel's Embassy in Delhi provided considerable support to the aid and rescue efforts. Staff from the Ministry in Jerusalem and nearby missions – among them the Deputy DG for Asia and the Pacific, the regional administrative officer for Asia, the New Delhi consul, were sent to assist the people in the field.
Israel's Prime Minister Benjamin Netanyahu wrote to Nepalese Prime Minister Sushil Koirala within hours of the first earthquake on 25 April, saying that Israel was pained by the disaster that had befallen Nepal, and offering Israel's assistance. He conveyed his condolences to the families of the victims and wished a full recovery to the injured.
Jewish and Israeli humanitarian aid delegations have been one of the largest international groups to assist in the relief efforts, with an 80-member IDF humanitarian aid delegation flying to Nepal within 48 hours of the disaster. They were joined by another cargo flight with around 170 trained military personnel. During the following two weeks, the IDF search-and-rescue teams were deployed near Kathmandu to locate survivors in the rubble of collapsed buildings.
A field hospital was set up in Chhauni to provide medical services for the local population. It had two operating rooms, four intensive-care rooms, 80 hospital beds and 260 military medical personnel, including specialists in neonatal and adult care. Approximately 1,500 patients were treated in the hospital and other locations. More than 70 life-saving surgeries took place, and eight babies were born in the hospital.
Please login or register to see the full article