| | |
| --- | --- |
| Tony Blair to head international group fighting racism and anti-Semitism | |
Former British Prime Minister Tony Blair has been appointed to head an international organisation that fights racism, anti-Semitism and xenophobia.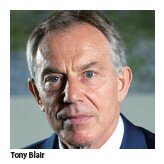 Blair's appointment as chairman of the European Council on Tolerance and Reconciliation (ECTR), heading a board of former European presidents and prime ministers, was announced in June.
The appointment comes after Blair announced that he will step down as the special Middle East peace envoy of the Quartet, the diplomatic group representing the US, the European Union, Russia and the United Nations, a post he has held since 2007.
"Incidents of extremism, rising anti-Semitism and surging nationalist forces who seek to cultivate a spirit of resentment by playing on people's fears, threaten our European ideals of freedom, equality and a desire for peace," said Blair in a statement.
"But such intolerance has been rejected before in our history and must be rejected again today. The ECTR stands against such closed-minded views – and I am delighted to have this opportunity to work with them to promote our shared vision for the future: societies based on an open-minded, inclusive and tolerant worldview."
Please login or register to see the full article