| | |
| --- | --- |
| Ice-cream cones named after Adolf Hitler | |
In yet another Hitler-related marketing incident in India, boxes of Hitler ice cream cones bearing the unsmiling image of the Nazi leader dressed in a military uniform are apparently available throughout India.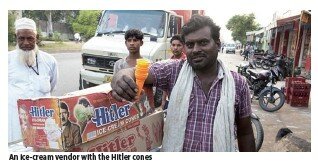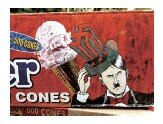 With temperatures soaring in India, ice-cream is a creamy and refreshing way to cool down. Unfortunately the eye catching ice-cream cones provides unpleasant enjoyment!
In 2012, municipal authorities in the Indian state of Gujarat removed the sign for a men's clothing store named Hitler. The sign, on which the letter "i" was dotted with a swastika, was removed after hundreds of complaints from both within and outside of the Jewish community.
A year earlier, an Indian network premièred a daily soap opera called "Hitler Didi", or "Auntie Hitler", in which the lead character was a young woman known in her locality as a strict disciplinarian who took a no-nonsense attitude with her family.
Please login or register to see the full article