| | |
| --- | --- |
| Hong Kong welcomes new Consul General | |
Mrs Ahuva Spieler is the newly appointed Consul General to Israel in Hong Kong and Macau.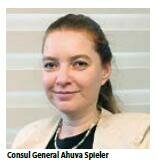 Arriving in August, she has replaced Sagi Karni, who was appointed for four years. Consul General Spieler becomes the first female consul to represent Israel in Hong Kong.
Mrs Spieler developed an early interest in Asia, graduating with a B.A. in Far Eastern Studies (China) and International Relations, from the Hebrew University, Jerusalem, in 1997.
Since joining Israel's Ministry of Foreign Affairs (MFA) in 2001, she served at Israel's Embassy in San Jose, Costa Rica (accredited to Nicaragua and Panama), as Deputy Ambassador from 2002 to 2007. She was also at the MFA headquarters in Jerusalem as Deputy Director at the Economic Department (The America & Africa) from 2007 to 2010, and at the Embassy of Israel in Madrid, Spain, as Cultural & Science Counsellor from 2010 to 2015.
From 2015 and prior to her arrival in Hong Kong, she served at the MFA headquarters as Chief of Staff to the Vice Director General and Head of Multilateral Directorate.
Please login or register to see the full article