| | |
| --- | --- |
| Russia unveils first Holocaust monument in Moscow | |
Russian President Vladimir Putin attended the unveiling of a memorial on 4 June at Moscow's Jewish Museum and Tolerance Center.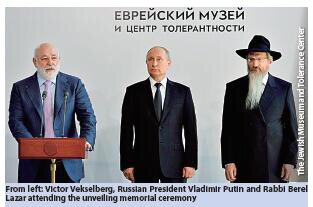 The monument, depicting hands pulling open a door's shutters, commemorates Jewish resistance fighters.
"Although about half of the victims of the Holocaust were citizens of our country, Moscow had no separate monument for the genocide," Herman Zakharyayev, the president of the STMEGI association of Mountain Jews, told the Moskvich magazine.
Holocaust and a plaque for the Jewish Anti-Fascist Committee," he acknowledged.
"But it had no prominent monument to match those of Berlin, Warsaw or Budapest."
Please login or register to see the full article