News
| | |
| --- | --- |
| ISRAEL GAZA CONFLICT COMES TO THE STREETS OF ASIA WITH RALLIES AND MARCHES | |
With a cease-fire in effect as of 26 August, the 12th in the 50 days of conflict, of which, according to Israel's Ministry of Foreign Affairs, previous ones have been broken by Hamas, perhaps the streets of both Gaza and Israel will remain quiet for some time and cautious optimism will prevail.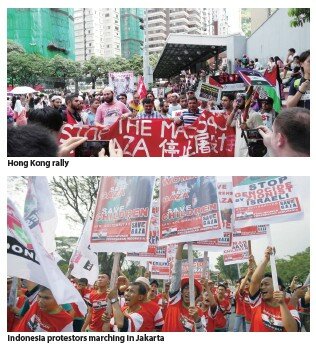 Israel's Intelligence Minister Yuval Steinitz was quoted as saying that, "While Hamas was not knocked out, it was delivered a severe blow that could very well be the beginning of the end of its control of the Gaza Strip. Hamas started this round with 10,000 rockets, and is now estimated to possess between 2,000 and 3,000.
"It started with Hamas possessing some 32 attack tunnels leading into Israel, and the army destroyed all the ones it had identified. And Hamas has had hundreds of fighters, including commanders, killed," explained Steinitz.
"Hamas destroyed Gaza, harmed itself, and didn't achieve anything," he added. "Hamas knows the truth, they can celebrate, but they know the truth," concluded Steinitz.
The conflict between Israel and Hamas and other terrorists organisations in Gaza prompted many sympathy groups to spring up in the region to rally in support and solidarity of the Gazan people. Spurred on by the many hundreds of civilian lives lost and partly fuelled by other rallies taking place in around the world, as well large Muslim populations in Asia.
Over the past few months, nearly every country in Asia organised solidarity marches in support of the people of Gaza and the Palestinians.
A rally event was organised in Singapore, held at Hong Lim Park on 28 July. More than 1000 people gathered, organised by Muhd Firdaus Bin Marzuki, founder of the facebook group, From Singapore to Palestine (FS2P). Mr Firdaus created the fanpage in 2012 to create awareness in Singapore about the situation in Palestine. A total of eight speakers voiced concerns about the humanitarian crisis in Gaza.
Please login or register to see the full article
| | |
| --- | --- |
| Children threatened on Sydney school bus | |

One of the more disturbing developments from the recent conflict between Israel and Hamas, was the shocking incident of Jewish children being threatened on a school bus in a suburb in Sydney, Australia.

Dozens of Jewish children were traumatized by a gang of teenagers last month who stormed a school bus and allegedly hurled racial abuse and threats. Eight teenagers threatened children saying Palestine 'must kill the Jews' and screaming 'Free Palestine'.

New South Wales state police said five juveniles were arrested over the incident. According to a police statement, they were questioned at a police station but were later released without charge into the custody of their parents pending further investigations.

The bus carrying about 30 children aged 5 to 12 years from three Jewish schools were subjected to "physical and racial threats" by a group of eight male teenagers, aged 15 to 17, who boarded at a bus stop in the the eastern suburb of Randwick, police said. No one was injured. One of the parents, Jackie Blackburn, said her three daughters, aged 8, 10 and 12, would need counselling after their terrifying bus ride.

Please login or register to see the full article

 

| | |
| --- | --- |
| Recognise Yom Kippur as an official UN holiday | |

Some 32 countries wrote a letter to a committee of the United Nations (UN) General Assembly in support of Israel's bid to have the international body recognise Yom Kippur as an official holiday.

The letter, dated 30 June, was sent to the General Assembly's Committee on Conferences and calls for Yom Kippur to be recognised beginning in 2015. The letter says that: "The UN recognises the major festivals of many of the world's main religions, yet Judaism is not represented.

"We believe that the UN's calendar should reflect the organisation's founding principles of coexistence, justice and mutual respect. We urge the UN to correct this inequity and recognise the holiest day of the Jewish faith," the letter stated.

Please login or register to see the full article

 

| | |
| --- | --- |
| ADL POLL FINDS MORE THAN A QUARTER SURVEYED INFECTED WITH ANTI-SEMITIC ATTITUDES | |

The Anti-Defamation League (ADL), released the results of an unprecedented worldwide survey of anti-Semitic attitudes. The ADL Global 100: An Index of Anti-Semitism surveyed 53,100 adults in 102 countries and territories in an effort to establish, for the first time, a comprehensive databased research survey of the level and intensity of anti-Jewish sentiment across the world.

The survey concentrated on seven major regions of the world accounting for about 88% of the worlds total adult population. The survey found that anti-Semitic attitudes are persistent and pervasive around the world. More than one-in-four adults, 26% of those surveyed, are deeply infected with antiSemitic attitudes. This figure represents an estimated 1.09 billion people around the world.

The overall ADL Global 100 Index score represents the percentage of respondents who answered "probably true" to six or more of 11 negative stereotypes about Jews. An 11-question index has been used by ADL as a key metric in measuring anti-Semitic attitudes in the US for the last 50 years.

"For the first time we have a real sense of how pervasive and persistent anti-Semitism is today around the world," said Abraham H. Foxman, ADL National Director. "The data from the Global 100 Index enables us to look beyond anti-Semitic incidents and rhetoric and quantify the prevalence of anti-Semitic attitudes across the globe. We can now identify hotspots, as well as countries and regions of the world where hatred of Jews is essentially non-existent."

"The level of anti-Semitism in some countries and regions, even those where there are no Jews, is in many instances shocking," said Barry CurtissLusher, ADL National Chair. "We hope this unprecedented effort to measure and gauge anti-Semitic attitudes globally will serve as a wake-up call to governments, to international institutions and to people of conscience that anti-Semitism is not just a relic of history, but a current event."

At the same time, there are highly encouraging notes in the ADL survey. In majority English-speaking countries, the percentage of those with antiSemitic attitudes is 13%, far lower than the overall average. Protestant majority countries in general have the lowest ratings of anti-Semitic attitudes, as compared to any other majority religious country. And 28% of respondents around the world do not believe that any of the 11 anti-Semitic stereotypes tested are "probably true."

Please login or register to see the full article

 

| | |
| --- | --- |
| Prime Minister Netanyahu visits Japan | |

Israel's Prime Minister Benjamin Netanyahu and his wife visited Japan in May. The 5-day working visit began on 12 May where Prime Minister Netanyahu met with Japanese Prime Minister Shinzo Abe.

During his meeting with Prime Minister Abe, Netanyahu was urged to resume the stalled peace talks with the Palestinian leadership and Mr Abe expressed his willingness to do what he could to help. Japan has good ties with both Israel and the Palestinian territories, with Japan providing the Palestinians with US$13.5 million in aid, the largest amount after the US and EU.

For the first time, Japan and Israel discussed security cooperation agreeing to promote exchanges between their defence authorities at ministerial levels, a move that will be keenly watched by Israel's neighbour's in the Middle-East and Japan's neighbour's in Northeast Asia.

In a joint statement, they also agreed to enhance investment, conduct industrial research and development, as well as increase cooperation in the tourism, farm and fishery sectors following Israel's move to lift import restrictions it placed on Japanese products after the Fukushima nuclear crisis. "The Israel-Japan relationship has not been fully developed. Potential for cooperation is also not fully exploited. I think there's a lot we can do together," a government spokesperson commented.

Please login or register to see the full article

 
More Articles...
Embassy donates solar lights
Reuven Rivlin is elected Israel's 10th president
POLICE ARREST SUSPECT OF DOUBLE MURDER OF MOTHER AND DAUGHTER
Planned attacks on US, Israeli consulates in India
<< Start < Prev

11

12 13 14 15 16 17 18 19 20 Next > End >>