| | |
| --- | --- |
| Start-Up Nation meets Asia's next generation leaders | |
An event held in Jerusalem on 29 May entitled: 'IsraelAsia: Visions of the Future From the Next Generation' – brought together young Asian visionaries, who are actively engaged in promoting Israel-Asia relations, to discuss what's next in the Israel-Asia relationship.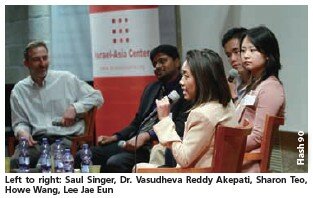 Moderating the event was Start-Up Nation co-author, Saul Singer. A best-seller in India and Singapore, the book has been translated into Japanese, Korean and Chinese, and is recommended reading for government officials in China's Jiangsu province.
Speaking on the interactive panel were graduating fellows including: Howe Wang from China, Sharon Teo from Singapore, Lee Jae Eun from South Korea and Dr. Vasudheva Reddy Akepati from India.
At the event, Israel-Asia Center founder and executive director, Rebecca Zeffert, quoted from Israel's first prime minister, David Ben Gurion, in his call for Israel "to form links with the people of Asia...to find room for more of their youth in our institutions of higher learning and facilitate practical training... in an attitude of humility and fraternity."
Please login or register to see the full article