| | |
| --- | --- |
| UJC celebrates its Silver Anniversary | |
On 14 March, the United Jewish Congregation of Hong Kong (UJC) celebrated its 25th Anniversary at the Aberdeen Marina Club.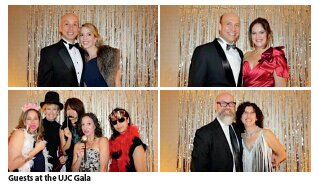 The Gala celebration, inspired by the Silver Anniversary, took the Silver Screen as its theme and featured red-carpet arrivals and a menu based on Wolfgang Puck's Academy Awards Governor's Ball creations. Guests dressed in Old Hollywood Glamour and came to dance, dine, and raise funds for the congregation and The Patient Care Foundation.
"The UJC Gala was a wonderful evening for the Congregation and friends from the wider Hong Kong community to shmooze and celebrate and also raise funds for both The UJC and The Patient Care Foundation, a charity that serves the medical needs of refugees and asylum-seekers in Hong Kong," said UJC President Clay Carol. "It was a particularly special evening as it marked the UJC's 25th year." 
Please login or register to see the full article