| | |
| --- | --- |
| "Flavors of the World " – Chabad of China annual celebration | |
In a move away from the usual style of Hong Kong dinners, Chabad of China hosted a unique event to celebrate its anniversary. This year's Annual Dinner held on 19 March on the terrace of the Jewish Community Centre (JCC), featured foods from around the world at a "Flavors of the World" Food Fest celebrating 29 years of Chabad in China and beyond.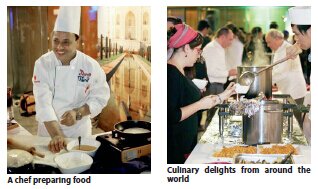 Chefs from around the city served their unique cuisine against beautifully lit up backdrops with iconic images and sights from their countries. Ethnic music playing at each food station contributed additional ambiance. At this 'walk around dinner buffet', 200 guests made their way from country to country enjoying a steady flow of food and wines from Japan, India, Spain, Italy and Mexico.
While dinners often focus on the accomplishments of the organisation, Chabad of China also pays special tribute to its partners and those who help make such events happen. Thus, following the buffet, the guests gathered in the Garden Room of the JCC to pay tribute to this year's Dinner Chairs, Dayana Poller and Marcel Dimenstein. The Dinner Chairs were also presented with the traditional "Tree of Life" and "Hineni" awards in tribute and appreciation of their special support and involvement with Chabad in China and throughout Asia.
In keeping with the food theme of the evening, was a musical performance by the "Veggie Brothers" from China – their first performance in Hong Kong was played using vegetables and gourdes that had been carved to create musical instruments. An additional surprise was their ability to play Jewish music on carrots and cabbage!
Please login or register to see the full article