| | |
| --- | --- |
| Israeli girl killed in ferry accident during Passover holiday in Thailand | |
A holiday trip for an Israeli family vacationing in Thailand turned into tragedy during the Pesach holiday. A 12-year-old girl Shani Maril died when a fire broke out on a ferry in southern Thailand.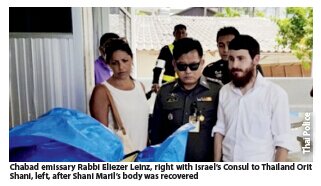 Israeli newspaper Ma' ariv reported that the girl was on the boat with her family making a Bat Mitzvah trip. The ferry, Onang Princess 5, was en route to Phuket from Krabi when the fire broke out at approximately 3:30 p.m.
The 12-year-old went to use the bathroom just before the fire broke out in the ferry's engine room, which was close to the bathroom. The girl is believed to have choked from the smoke and was unable to escape the ferry, which quickly burned and sank. The rest of the 114 passengers and crew aboard were rescued.
Nearby fishing boats and motor boats helped evacuate the passengers and crew of the sinking ferry and take them to nearby Onang Island. "The ship burned very quickly, so the close proximity of the boats helped with evacuation," said the manager of the local maritime office, Vishai Komwong.
A large contingent of police from Krabi continued to search for the girl into the night, even after the ship sank to a depth of 18 metres, according to Nati Hadad, an Israeli search and rescue worker stationed in Ko Samui. Local police, as well as Israel's Foreign Ministry and embassy in Thailand, are investigating the incident.
Local divers reported that they had discovered her remains a few yards away from where the ferry sank.
Please login or register to see the full article