| | |
| --- | --- |
| Jewish judge appointed to Singapore court | |
Sir Henry Bernard Eder was sworn in as an International Judge to the Singapore International Commercial Court on 7 May.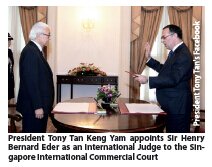 Sir Bernard, 62, was formerly a Judge of the High Court of England and Wales, and was assigned to the Queen's Bench Division and the Commercial Court from 2011 to 1 April, 2015. He is currently the Senior Editor of Scrutton on Charterparties and Bills of Lading, said the Prime Minister's Office (PMO) in its press release.
He is widely recognised as an expert in the areas of commercial disputes, civil claims and international arbitration involving all aspects of commercial law, including banking, shipping, sale of goods, commodities, oil and gas and insurance.
The swearing-in ceremony was held at the Istana before Singapore President Tony Tan Keng Yam. With Sir Bernard's appointment, the Singapore International Commercial Court will have a total of 12 International Judges, said the PMO. Other appointees come from Australia, the US, Japan, Hong Kong, France and Austria.
Please login or register to see the full article