| | |
| --- | --- |
| Israel's National Trail to be Google mapped | |
For the first time in Israel, Youth Volunteers from The Society for the Protection of Nature in Israel (SPNI) will hike the 1,100-km Israel National Trail carrying Google Street View Trekker cameras to map the trail for future hikers and users. Two specially built cameras have arrived in Israel for the project.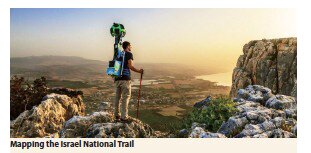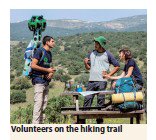 This endeavour will create the longest trail ever photographed for Google Maps and the first one that stretches across the entire length of a country.
The Israel National Trail was inaugurated by SPNI in 1995, creating a hiking trail across the entire country. The trail begins in Kibbutz Dan in northern Israel and ends at SPNI's Eilat Field School on the Red Sea.
It passes through the Galilee, Carmel, along the Mediterranean coastline, Tel Aviv, Rosh Ha'ayin, El'ad, the Modi'in area, the Judean lowlands, archaeological sites at Bet Guvrin, the Negev wildernesses and the Eilat Mountains. The trail embodies the nature, landscape, heritage, tradition, religions and cultures that make up the kaleidoscope of modern Israeli society, making the trail an unforgettable experience.
Google's Street View project was launched in May 2007 and is currently available in 66 countries on all seven continents. Users can explore virtually and navigate neighbourhoods, historical areas and cultural sites through panoramic street-level images.
Please login or register to see the full article