| | |
| --- | --- |
| First Israeli shipment of fruit to Myanmar | |
In what is being described as a first for Israel, an Israeli company has just sent a shipment of fresh fruit to Myanmar.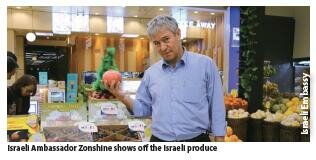 According to news released by the Israeli embassy on 8 January, Israeli export company Agroterra in co-operation with local company City Mart delivered a shipment of top-quality dates, red grapefruits and pomegranates. The fruit was sold in City Mart shops in Yangon.
Israel is known for its advanced agricultural methods and technology, particularly its effective use of water and irrigation, and has been co-operating in this field with Myanmar.
The Israeli embassy and its Ambassador, Daniel Zohar Zonshine, have encouraged the co-operation.
Please login or register to see the full article