| | |
| --- | --- |
| ZAKA granted official advisory status | |
After three years of failed efforts, the United Nations Committee on Non-Governmental Organizations has voted to grant official advisory status to the emergency response victim identification organisation ZAKA.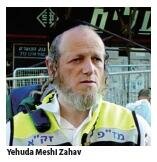 The vote on 26 January 2016 was passed unanimously, despite the membership of states hostile to Israel such as Iran, Cuba, Venezuela, Sudan and Pakistan.
ZAKA Chairman Yehuda Meshi Zahav praised the recognition of ZAKA, saying "It is a moral and ethical organisation, and its acceptance in the UN is a natural extension of its worldwide operations." He said ZAKA was active in many countries, saving lives and maintaining the dignity of disaster victims. Meshi Zahav emphasised that the group was been recognised unanimously because of the diplomatic maneuvres of the Israeli embassy at the UN.
Official recognition by the UN grants ZAKA the right to participate in official hearings of all UN arms and thus influence the conversation in the global union's various committees. Israeli Ambassador to the UN Danny Danon said: "This is a very significant victory for Israeli diplomacy. ZAKA is an organisation that reflects Israel's moral values and its acceptance by the UN represents conclusive proof to the world of this fact. ZAKA received the status it deserves."
Please login or register to see the full article