Regional
| | |
| --- | --- |
| Shinzo Abe to receive American Jewish Committee's prestigious 'Light Unto Nations Award' | |
American Jewish Committee (AJC) announced in June that it will honour Japanese Prime Minister Shinzo Abe with its 'Light unto the Nations Award'.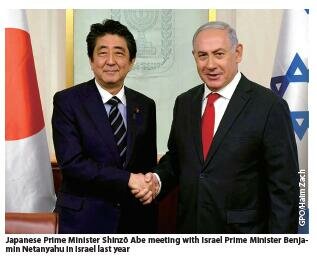 The statement was issued during the AJC Global Forum which took place from 2-4 June in Washington, D.C. It is AJC's highest honour, typically bestowed upon world leaders who exhibit leadership, courage, and principle.
"Steadfast defense of democratic values, and an unwavering commitment to friendship with the United States and Israel, are hallmarks of your leadership and [are] models for other nations to emulate," said AJC's Asia Pacific Institute Chair, Jeffrey E. Stone. The AJC award will be presented to Abe later this year.
"Japan is a democratic powerhouse in Asia, an essential ally and partner of the US, a close friend of Israel, and an anchor of stability in a vital part of the world," Stone added.
AJC, a leading global Jewish advocacy organisation, has uniquely engaged Japan over the past 30 years through its pioneering Asia Pacific Institute (API). Meetings with Prime Minister Abe have occurred regularly during the annual API delegations' visits to Japan since he assumed office in 2012.
Kiyoto Tsuji, Parliamentary Vice-Minister for Foreign Affairs, briefly addressed the AJC Global Forum. "I would like to express my deep appreciation on the bestowal of the 'Light Unto the Nations Award' from AJC to Japan's Prime Minister Abe. I take the award as a sign of acknowledgement of the leadership that he has shown for many years in promoting the partnership between Japan and the Jewish community, including Israel."
Please login or register to see the full article
| | |
| --- | --- |
| Australia becomes a full member of IHRA | |

The World Jewish Congress (WJC) has welcomed Australia's ascension to becoming a full member of the International Holocaust Remembrance Alliance (IHRA), which was approved at the organisation's plenary meeting in Mondorf-les-Bains, Luxembourg, in June.

In a letter to Australia's Minister of Foreign Affairs Marise Payne, WJC CEO and Executive Vice President Robert Singer wrote that "Australia sets a worthy example for the entire world, and acts in line with its long and inspiring tradition of religious tolerance and respect."

"IHRA identifies the most pressing post-Holocaust issues across the globe, casting a spotlight upon them for the benefit of experts and policy makers, and promotes practicable actions to address them. The devotion of the government of Australia to this important topic will strongly contribute to the mission of IHRA to counter Holocaust distortion and ad dress contemporary antisemitism," Singer wrote.

Please login or register to see the full article

 

| | |
| --- | --- |
| First ever Israel-Hong Kong Women's Forum held | |

Five outstanding Israeli women, each an expert in her own field, came to Hong Kong to engage in discussions with their counterparts at a halfday forum titled: "IsraelHong Kong Women-toWomen Bridge" on 31 May.

The forum coincided with the 71st Independence Day of the State of Israel, and according to Israel's Consulate in Hong Kong, it was the largest, most important event to be held by them this year.

The event was co-organised by the Asia Society Hong Kong Centre, and featured panel discussions on three topics: innovation and technology, medical sciences, and finance and economy. It served as a unique platform to connect entrepreneurial women in Israel and Hong Kong, tasked with a duty to inspire, empower, and celebrate their achievements whilst building networks and enhancing international relations.

Israel's Consul General to Hong Kong, Ahuva Spieler, mentioned that she had been dreaming of this forum since her arrival in the city two years ago as the first woman Consul General of Israel to Hong Kong. This was coincidentally the same year in which Chief Executive Carrie Lam was sworn in as the first female to hold such a title in Hong Kong.

Please login or register to see the full article

 

| | |
| --- | --- |
| Children's festival organised in Vietnam | |

On 2 June, Israel's Embassy in Vietnam, in coordination with the Hanoi Children's Palace, organised a festival in response to National Action Month for Children.

The festival-goers, including those from SOS children's villages and the Centre for Educating and Supporting Disadvantaged Children, participated in a range of activities. Apart from the innovation space of STEM disciplinary education, the children engaged in traditional Vietnamese and Israeli games, read Israeli literature, and learnt how to make Israeli cakes.

Israel's Ambassador to Vietnam, Nadav Eshcar, said the event aimed to create an equal playground for disadvantaged children, and helped them to better understand Israel's culture.

Please login or register to see the full article

 

| | |
| --- | --- |
| Remembering Munich 1972: Ceremony to be held during the 2020 Olympic Games | |

The Olympic Committee of Israel has announced plans to conduct a ceremony in Tokyo during the 2020 Olympics in honour of the 11 Israelis killed during the 1972 Munich Olympics.

International Olympic Committee (IOC) President Thomas Bach is expected to attend the event on 2 August 2020, along with representatives from the Tokyo Metropolitan Government, the central government, the Japanese Olympic Committee, and spouses of the 11 victims. At the ceremony, 11 candles will be lit and prayers will be offered.

Memorial services for the Munich victims have been held during the Summer Olympics since the 2000 Sydney games. "The goal is to ensure this kind of terrorist act does not occur again. This is a reminder, something we must not forget," said Gilad Lustig, Executive Director of the Olympic Committee of Israel.

Invitations are to be sent to national Olympic committees attending the Tokyo Games.

Please login or register to see the full article

 
<< Start < Prev 1 2 3 4 5

6

7 8 9 10 Next > End >>