| | |
| --- | --- |
| National Convention for Indian Jews held in Israel | |
The Indian Jewish Community, in collaboration with India's Embassy in Israel, Ramla municipality and SBI, Tel Aviv, organised the Third National Convention for Indian Jews in Ramla on 13 August.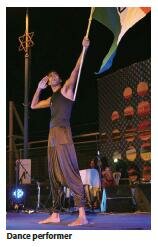 About 4,200 people attended the nearly six-hour event, which included a mixture of classical and contemporary Bollywood musical and dance performances; an Indian bazaar with 17 Indian stalls selling Indian food, clothing, CDs and henna; an exhibition about the Cochini Jewish heritage, and the release of the book Bene Israel of India by Nissim Moses, an Indian-Jewish historian.
The highlight of the event was a musical show by the RetroRockers, Mumbai, whose performance drew huge applause from the audience.
With India renovating Jewish heritage sites in the country, India's envoy to Israel appealed to young Jews of Indian origin to take advantage of the ease of travelling to the land of their forefathers and to contribute in strengthening bilateral ties by connecting to their roots.
"We want to tell the world proudly about the rich Jewish life in India, and with your efforts we are working to preserve the Jewish heritage in India. We hope to have a package tour to Jewish heritage sites in Mumbai and elsewhere by early next year," India's Ambassador to Israel Jaideep Sarkar told the gathering.
Earlier this year, during his visit to Israel, Maharashtra Chief Minister Devendra Fadnavis said that his government would take initiatives to preserve the Jewish heritage sites in the state as it looks to promote tourism. "The state government is planning to celebrate the year 2017 as 'Visit Maharashtra year'. By that time we would create lot of circuits for tourism. I feel that if we could preserve the erstwhile Jewish heritage, a lot of tourists could come there."
Please login or register to see the full article