| | |
| --- | --- |
| Hayelala perform at Rhythm of the Earth festival, Bangkok | |
Hayelala (The Howl) is a soulfolk band consisting of Israeli musicians who travel together, bringing with them inspiring songs and poetry.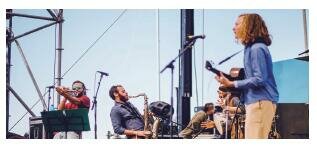 They were part of an international lineup of groups that performed in Bangkok at the "Rhythm of the Earth #10" festival. The annual event took place from 17 to 21 February at Central World.
Musicians from around the world performed on a spectacular stage. Guests enjoyed live music, plus delicious cooked BBQ food from many of the food stands around the venue.
Coming from a variety of ethnic backgrounds, the six members of Hayelala play their original folklore music, featuring a blend of influences from jazz, Middle Eastern and European classical music. The unique mix of all these artistic elements aims to invoke stories from the heart and inspire wonder at the poetry.
Please login or register to see the full article