| | |
| --- | --- |
| Israeli chef brings Middle Eastern cuisine to Vietnam | |
Shahar Lubin earned his culinary chops in Israel, and later the US, cooking his way through more than 20 restaurants, starting at the age of 16.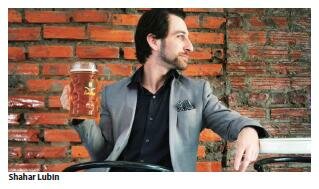 Still, it was a leap when he moved to Vietnam and opened a restaurant of his own. "I said, 'I've been doing it for other people for so long, I might as well do it for myself,'" said Lubin, who operates Daluva, the first and only "Middle Eastern gastropub" in Hanoi, a city of seven million with a lively street-food culture.
Lubin, 37, grew up in the Israeli village of Hararit in the Galilee, and spent summers working as a shepherd. He said he began cooking as a social activity with boys in neighbouring villages. In 2000, after serving in the Israeli army and living in Jerusalem, Lubin moved to Philadelphia, his father's hometown, and began working his way up the restaurant food chain, from line cook to senior chef.
Working in a wide variety of kitchens, Lubin said he prepared everything from pub food to "contemporary Israeli" cuisine. At one point he worked in the same restaurant under three different incarnations. "I waslikeacat–Icamewiththe building," he said with a laugh.
But the long hours exacerbated a chronic back injury and Lubin grew desperate for a long break. Southeast Asia seemed like a logical place to get "recharged", he said, partly because he liked what he knew of the region's food. So Lubin travelled there in 2009 for what he thought would be a one-year sabbatical. He then spent most of a year exploring Southeast Asian cities, including Bangkok in Thailand and Yangon in Myanmar.
Please login or register to see the full article