| | |
| --- | --- |
| Philippine International Jazz Festival | |
The Philippine International Jazz Festival (PIJF) is an annual event organised by the Philippine International Jazz Festival Foundation, headed by jazz singer Sandra LimViray.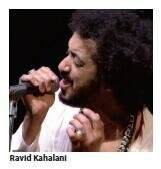 The 16-day festival held in February, featuring 50 local and foreign artists, showcased 40 performances in 14 venues in and outside Metro Manila. International acts included artists from Israel, Germany, Norway, India and the US.
Israeli singer Ravid Kahalani presented "Yemen Blues", an Israel-Philippines friendship concert. Joining him was Filipina musician Nicole Laurel Asensio. Born to a JewishYemeni family, singer, songwriter and producer Kahalani is well known in the Israeli music scene. His love for AfricanAmerican soul and blues, roots music and traditional songs ignited his passion to perform.He has performed in over 150 shows with Yemen Blues, a group that he founded in 2010 with musicians from Tel Aviv, New York and Uruguay. Yemen Blues mixes Yemenite, West African and jazz influences, and creates powerful mambo and North African rhythms with vocals reminiscent of ancient Arabic chants mixed with funk and blues.
Please login or register to see the full article