| | |
| --- | --- |
| Ancient golden treasure found at foot of temple mount | |
In summer excavations at the foot of the Temple Mount, Hebrew University of Jerusalem archaeologist Dr. Eilat Mazar made a stunning discovery: two bundles of treasure containing thirty-six gold coins, gold and silver jewelry, and a gold medallion with the menorah symbol etched into it. Also etched into the 10-cm medallion are a shofar and a torah scroll.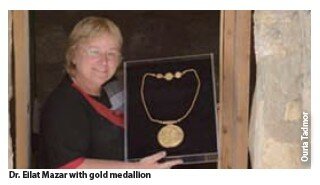 Dr. Mazar directs excavations on the City of David's summit and at the Temple Mount's southern wall. Calling the find "a breathtaking, once-in-a-lifetime discovery," Dr. Mazar said: "We have been making significant finds from the First Temple Period in this area, a much earlier time in Jerusalem's history, so discovering a golden seven-branched menorah from the seventh century CE at the foot of the Temple Mount was a complete surprise."
The discovery was unearthed just five days into Mazar's latest phase of the Ophel excavations, and can be dated to the late Byzantine period (early seventh century CE). The gold treasure was discovered in a ruined Byzantine public structure a mere 50 metres from the Temple Mount's southern wall.
The position of the items as they were discovered indicates that one bundle was carefully hidden underground while the second bundle was apparently abandoned in haste and scattered across the floor.
Given the date of the items and the manner in which they were found, Mazar estimates they were abandoned in the context of the Persian conquest of Jerusalem in 614 CE. After the Persians conquered Jerusalem, many Jews returned to the city and formed the majority of its population, hoping for political and religious freedom. But as Persian power waned, instead of forming an alliance with the Jews, the Persians sought the support of Christians and ultimately allowed them to expel the Jews from Jerusalem.
Please login or register to see the full article