| | |
| --- | --- |
| Celebrating the Festival of Chanukah | |
Chanukah, the Festival of Lights, begins on the 25th day of the month of Kislev, and lasts for eight days. On the secular calendar, Chanukah generally falls in the month of December.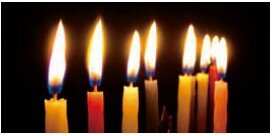 A Bit of History
The Hebrew word Chanukah means "dedication." In the 2nd century BCE, during the time of the Second Temple, the Syrian-Greek regime of Antiochus sought to pull Jews away from Judaism, with the hopes of assimilating them into Greek culture. Antiochus outlawed Jewish observance including circumcision, Shabbat, and Torah study as a death penalty. As well, many Jews called Hellenists began to assimilate into Greek culture, taking on Greek names and marrying non-Jews.
Please login or register to see the full article