| | |
| --- | --- |
| Yom Kippur – waiting for our fate to be sealed | |
Yom Kippur is recognised as the holiest day of the Jewish year. The day falls on 10 Tishrei , which is 10 days after Rosh Hashanah. These 10 days are meant to be days of aweand deep introspection.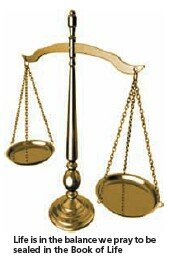 On Yom Kippur, G-d seals our fate for the coming year. The entire day is spent fasting and praying to G-d for forgiveness and a good year ahead. We refrain from work, fast and attend synagogue services.
The name Yom Kippur means "Day of Atonement." It is a day set aside to "afflict the soul," to atone for the sins of the past year. This day is, essentially, our last appeal and our last chance to change the judgment, to demonstrate our repentance and make amends so we may be sealed in the book of life.
Yom Kippur atones not only for sins between man and G-d, but also for sins against another person. To atone for sins against another person, one must first
seek reconciliation with that person and righting the wrongs committed against them if possible. This is best done before Yom Kippur.
Please login or register to see the full article