| | | |
| --- | --- | --- |
| Greetings on the occasion of the 61st Independance Day of the State of Israel from Amikam Levy, Consul General Hong Kong | | |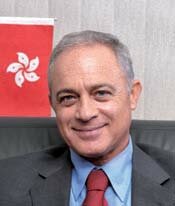 Dear Friends,
During the past decade, Israel has emerged as a major player on the world economic state fueled primarily by strong growth in the high-tech sector. Companies like M-Systems and ICQ invented and popularized the technology behind computer Flash drives, instant messaging, and the cellular phone, to mention only a few. Such ingenuity has attracted the attention of a number of foreign investors including Microsoft, Google, and Warren Buffet's Berkshire Hathaway – all in just the past two years alone. Now that Israel has more companies listed on the NASDAQ exchange than any other country (except for the United States), an investment in Israel is now a possibility for even the most casual stockholder.
Since Israel cannot enlarge her territory she miniaturizes her equipment. The smallest satellite in space and the smallest chip in the world were designed in Israel. Fittingly, Israel made nanotechnology a priority for the future.
Since the world economy has shifted from agriculture to science, Israel had to change her priorities accordingly. Small in size, she could not become a world market. Small in her demography, she could not become a major industrial power. Her human talent enabled her to emerge into a global laboratory of scientifi c innovation.
What lies at the heart of Israel's achievements? Basically, it's the innovative ideological spirit and a profound devotion of her people to serve the country by plow and science. Israel combined heritage and innovation in order to create unique social and agricultural structures like the Kibbutz and Moshav, which exist only within her boundaries. Although kibbutz and moshav members comprise only 1.5% of the population, they produce 7.5% of the GDP. Thirty percent of Israel's decorated soldiers emerged from these unique social structures.
Small in territory, she reached an impressive scientifi c level, making her a global seedbed of innovation. She is the home of excellent universities and research institutions, blessed with the highest number of engineers per square mile. She cultivates her heritage and enjoys rich literature, poetry, art and culture. She takes pride in acclaimed philharmonic orchestras and museums of art. It is not for naught that the Jewish nation is referred to as "The People of the Book", with Israel's abundance of translation of Hebrew literature into foreign languages and the multitude of world literary and school works translated each year into Hebrew on a scale which is immensely disproportional to her relatively population.
During these 61 years, Israel has absorbed more three million immigrants who journeyed to Israel from more than 80 countries on six continents. They arrived in Israel seeking freedom and the ability to realize the historical dream of Jewish statehood.
The Jewish Community in Hong Kong is relatively big and stable. It has been established here for generations and is known to the Hong Kong people. They play major roles and key positions in various sectors in the Hong Kong society. Without their firm and resolved support, the State of Israel would not be able to achieve the objectives.
Israel's investment and trade relationship with Hong Kong has never been stronger. A record 82 Israeli companies, 40 of diamond and 35 of hi-tech, have their regional headquarters here as a platform to develop and grow their businesses in China  and the rest of Asia Pacific.
Hong Kong and Israeli companies are close partners. With strong Hong Kong management expertise, and Israeli companies' advanced technological capabilities, Hong Kong and Israel can be signifi cant players in the China hi-tech market.
We are natural partners. Both places consistently over-achieve in face of formidable challenges. Israel creates and Hong Kong adapts. This is a powerful combination, refl ected in the growing bilateral trade and commercial exchanges.
Total bilateral trade between Israel and Hong Kong in 2008 was valued at about 4.6 billion US dollars, of which 3.2 billion US dollars was the diamond trade. Hong Kong's trade relation with Israel is stable and has recorded rapid growth in the region. During 2004-2008, total bi-lateral trade soared 86%, mainly in the diamond trade.
The Consulate General of Israel in Hong Kong tries to fi nd new fi elds in which to introduce Israeli knowledge -- for instance environmental technology and alternative energy, and water technology for Mainland China through Hong Kong. Following the policy address of the Chief Executive we are also working hard to promote wine-related business and considering signing a memorandum of understanding.
We already have signed the Agreement on Co-operation in IT and Communications as well the Agreement on Aviation. We are now in the process of fi nalizing agreements on cultural exchange, double taxation and customs.
Hong Kong people are very interested in skincare and cosmetic products from Israel. Many Israeli companies displayed their products at Cosmoprof Asia, featuring their collection of cosmetics derived from Dead Sea resources.
We promote investments of large Chinese companies into Israel, and facilitate the exchange of professional delegation and knowledge. We are in contact with governmental departments and private companies concerning environmental technology, to bring in Israeli expertise.
There is great potential in further strengthening our co-operation. We will do it, with energy and with the same spirit and optimism that created the State of Israel sixty-one years ago.
(Issue April 2009)