| | |
| --- | --- |
| Children threatened on Sydney school bus | |
One of the more disturbing developments from the recent conflict between Israel and Hamas, was the shocking incident of Jewish children being threatened on a school bus in a suburb in Sydney, Australia.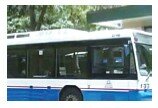 Dozens of Jewish children were traumatized by a gang of teenagers last month who stormed a school bus and allegedly hurled racial abuse and threats. Eight teenagers threatened children saying Palestine 'must kill the Jews' and screaming 'Free Palestine'.
New South Wales state police said five juveniles were arrested over the incident. According to a police statement, they were questioned at a police station but were later released without charge into the custody of their parents pending further investigations.
The bus carrying about 30 children aged 5 to 12 years from three Jewish schools were subjected to "physical and racial threats" by a group of eight male teenagers, aged 15 to 17, who boarded at a bus stop in the the eastern suburb of Randwick, police said. No one was injured. One of the parents, Jackie Blackburn, said her three daughters, aged 8, 10 and 12, would need counselling after their terrifying bus ride.
Please login or register to see the full article