| | |
| --- | --- |
| ISRAEL GAZA CONFLICT COMES TO THE STREETS OF ASIA WITH RALLIES AND MARCHES | |
With a cease-fire in effect as of 26 August, the 12th in the 50 days of conflict, of which, according to Israel's Ministry of Foreign Affairs, previous ones have been broken by Hamas, perhaps the streets of both Gaza and Israel will remain quiet for some time and cautious optimism will prevail.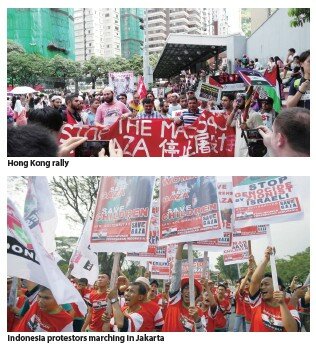 Israel's Intelligence Minister Yuval Steinitz was quoted as saying that, "While Hamas was not knocked out, it was delivered a severe blow that could very well be the beginning of the end of its control of the Gaza Strip. Hamas started this round with 10,000 rockets, and is now estimated to possess between 2,000 and 3,000.
"It started with Hamas possessing some 32 attack tunnels leading into Israel, and the army destroyed all the ones it had identified. And Hamas has had hundreds of fighters, including commanders, killed," explained Steinitz.
"Hamas destroyed Gaza, harmed itself, and didn't achieve anything," he added. "Hamas knows the truth, they can celebrate, but they know the truth," concluded Steinitz.
The conflict between Israel and Hamas and other terrorists organisations in Gaza prompted many sympathy groups to spring up in the region to rally in support and solidarity of the Gazan people. Spurred on by the many hundreds of civilian lives lost and partly fuelled by other rallies taking place in around the world, as well large Muslim populations in Asia.
Over the past few months, nearly every country in Asia organised solidarity marches in support of the people of Gaza and the Palestinians.
A rally event was organised in Singapore, held at Hong Lim Park on 28 July. More than 1000 people gathered, organised by Muhd Firdaus Bin Marzuki, founder of the facebook group, From Singapore to Palestine (FS2P). Mr Firdaus created the fanpage in 2012 to create awareness in Singapore about the situation in Palestine. A total of eight speakers voiced concerns about the humanitarian crisis in Gaza.
Please login or register to see the full article