| | |
| --- | --- |
| China appoints new Middle East special envoy | |
China's new special envoy on Middle East affairs, Gong Xiaosheng, made his first visit to Israel in September.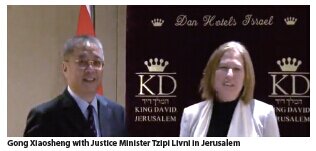 In Jerusalem, he met with Justice Minister Tzipi Livni and Deputy Foreign Affairs Minister Tzachi Hanegbi.
Gong emphasized that the Chinese government attaches great importance to developing friendly and cooperative ChinaIsrael relations.
"We hope that through our efforts and visits, we can make some contribution to peace in the Middle East and promote negotiations and a political settlement," he said.
Livni and Hanegbi said Israel considers its relationship with China to be of great importance. They expressed appreciation for China's efforts to promote peace and stability in the Middle East and said they hoped China would
Please login or register to see the full article